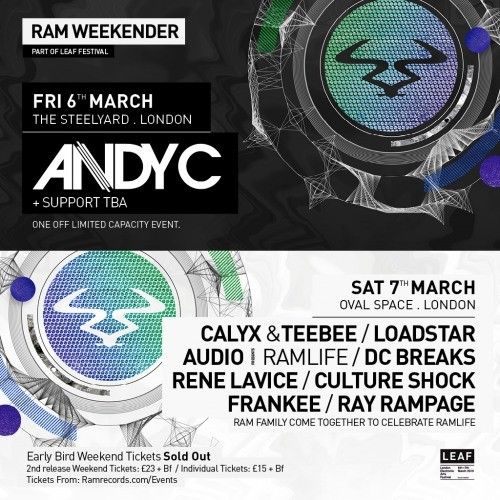 RAM Weekender – LEAF Festival – Ram Records – Andy C, Calyx & TeeBee, Loadstar, Audio, DC Breaks plus more
The secret is out – RAM Records' anticipated Weekender line up has now been announced… And these are two RAM packed nights you won't want to miss.
We'll be heading to new venue The Steelyard to bring you the intimate vibes brought by London's most notorious railway tunnels. And if the setting wasn't enough to entice you in, label head Andy C will be joining two very special guests from the roster to make a night which will go down in history.
Deep in the passages of central London, this space presents the perfect acoustics for some of the most savage sets the city has to offer. It's not just about the music this weekend; it's the experience too.
And an equally huge Saturday will be awaiting you, with Calyx & Teebee, Loadstar, Audio (special RAMLife set), DC Breaks, Rene LaVice, Culture Shock and Frankee all making an appearance at the renowned Oval Space. Another stunning location to witness your favourite acts, there'll be no other way to spend your weekend.
In conjunction with the London Electronic Arts Festival, a two day-cultural celebration of electronic music, art, technology and digital futurism, this weekend will attract nearly 20,000 music fans to the heart of London. One of the biggest gatherings to date, we're proud to be part of this significant moment for the cities nightlife which is created and curated by Bestival's founder and resident DJ Rob Da Bank.
As well as this, if you've purchased tickets for the whole weekend, you'll be entered into a ballet to meet Team RAM Records; A label that helped to oversee the birth of jungle and one which continues to push their sounds to remain at the forefront of the DNB movement today. They'll be discussion from artists, managers and booking agents, so you'll be given a personal insight into one of the UK's most defining electronic labels.
Taking you back into the depths of London's most infamous spots, this weekender will reinstate your love for electronic music like no other event could. So make sure you become part of our antiquity too. But be quick, as pre-sale tickets have already sold out… And after this announcement the rest are soon to follow!