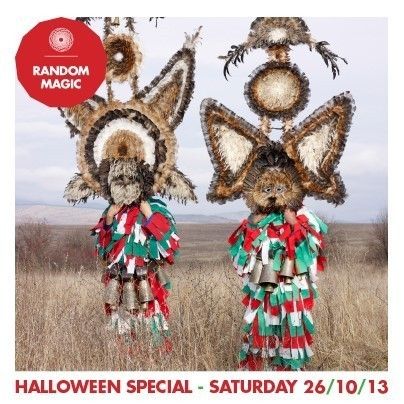 Random Magic Halloween
This Halloween, as the stars align and the universe's many moons cross paths, a new event lurks from out beneath the shadows, to wreak havoc on the London scene. On Saturday 26th October, RANDOM MAGIC, a mongrel manifestation of the mutated minds behind Magic & Medicine and some of London's leading electronic events, will bring together FUTUREBOOGIE, CLASSIC RECORDS Vs HORSE MEAT DISCO, OPTIMO & FXHE for a spellbinding night of Halloween horror.

Celebrating all that is good and great in label culture in 2013, Random Magic will host a label mini-festival allowing each imprint to push out their own unique identity, whilst showing respect and support to their peers in the adjoining rooms. Directed by the mystic and aligned with the cosmic, Random Magic make the perfect hosts for London's new Halloween affair. Demonstrated by the pagan symbols weaved throughout their logo and artwork, they have an inherent understanding as to why Halloween is now one of the most celebrated nights of the year.

Injecting an element of much needed fun back into the metropolis's night-time landscape, Random Magic will come to life across the newly invigorated, multiple linking labyrinth and disco drenched decor of Vauxhall's FIRE. Comprising of the three main arches including The Lighbox, Mirror Arch and the Main Room, Vauxhall's longstanding hedonistic hideout, will be dripping with its iconic mirror ball clusters, reflections, projections and spooky TV screen installations. With funktion 1 throughout, the LED wall to ceiling Lightbox, up-lit floor, various intimate nooks and crannies and extensive outside area, each room has its own unique identity and will be taking on a life of its own. The entire space will be transformed into a Halloween horror show complete with its own GHOST TRAIN taking people to hell and back.

Each label will be revealing their full line-ups in the coming weeks, plus a very special guest will be announced courtesy of Random Magic. Four labels, three main rooms, one very special guest and a ghost train. Halloween in London has a new home, and there's room for everyone.