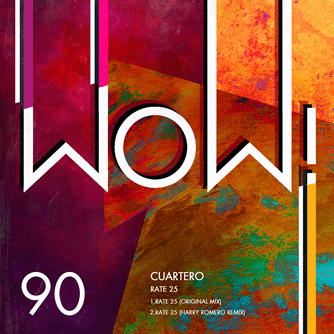 Cuartero - Rate 25
29th May sees rising Spanish DJ/producer Cuartero return to Wow! Recordings for the release of his latest single, 'Rate 25' – also featuring a remix from the US-based DJ/producer Harry Romero.
Cuartero is a name familiar to Wow. He first released on Mar-T's celebrated imprint back in 2012, and since then has offered up a number of stellar tracks/remixes, as well as performing alongside Mar-T and the other Wow! Recordings compatriots at their label showcase parties.
'Rate 25' sees the talented Spaniard continue his fine form, providing a groove-laden workout that combines a deep, chuggy bassline with numerous percussive elements, manipulated vocal samples and off-kilter effects.
Harry Romero's re-rub is next up, seeing him omit some of the original's scattered effects and replace them with a tight selection of Tech-House tones over the fierce four-to-the-floor rhythm.
'Rate 25' (Inc. Harry Romero Remix) is available exclusively via Beatport on May 29th and everywhere else two weeks later.
FIND WOW! RECORDINGS ONLINE:
https://pro.beatport.com/label/wow!-recordings/2163
https://soundcloud.com/wow-recordings
https://www.facebook.com/WowRecordingsOFFICIAL
TRACKLIST:
Cuartero – Rate 25 (Original Mix)
Cuartero – Rate 25 (Harry Romero remix)