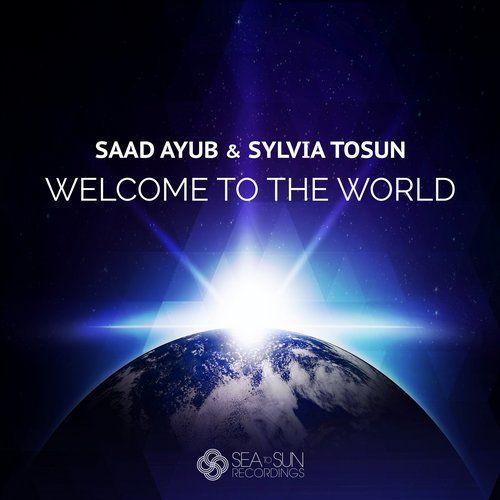 Sylvia Tosun & Saad Ayub - Welcome To World
On May 26th, Sea to Sun will proudly release, "Welcome to the World", a white-hot new single from Bangladesh born, Toronto based, trance talent Saad Ayub and acclaimed, New York singer-songwriter, Sylvia Tosun. Sea to Sun, co-owned by Tosun, recently joined some of the most notable record labels in electronic music, on the Black Hole label roster and selected "Welcome To The World" as the anthem to mark this achievement.
Sylvia Tosun is an artist whose career has transcended genres, captivating music lovers around the world. She is a classically trained soprano who studied at the prestigious Juilliard School of Music in New York City, going on to top the Billboard Club Charts with tracks like "Push And Pull", as well as releasing the seminal vocal trance anthem "An Angel's Love" on the influential Armada Music label. She has worked with numerous big names in the field including, Aly & Fila, Alex M.O.R.P.H. and Andrew Rayel. Always combining emotive delivery with meaningful lyrics and classic songwriting, she is a star who continues to shine brightly.
With his distinct, pulsating sound, Bengali-born trance ambassador Saad Ayub has carved out a special place for himself in the dance music community. Inspired by the fresh sound of psychedelic and melodic trance, he is become known for masterfully combining the light and dark sides of the genre and creating a euphoric blend of music that stimulates the body and mind. Between them, Saad and Sylvia create a true state of bliss on this new single.
Entitled "Welcome To The World" and available as a radio edit and original mix, the track soars to the heavens from the off. Sylvia's dreamy, ethereal lyrics muse on spiritual themes and build to a big chorus drop that will get every dancefloor jumping. After an epic breakdown and spine tingling synth sequences, the beats drop once more and race through a starry night sky with fist pumping energy. Add in some tender tinkling keys and more rippling arpeggios, and you have a sure-fire, heart-swelling summer anthem in the making.
Sylvia Tosun:
www.sylviatosun.com
www.facebook.com/SylviaTosun
https://twitter.com/SylviaTosun
Saad Ayub:
www.saadayub.com
www.facebook.com/saadayubofficial/
https://twitter.com/SaadAyub
Sea To Sun:
www.seatosun.com
https://www.facebook.com/SeaToSun
https://twitter.com/Seatosun