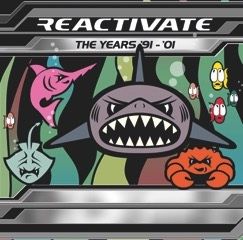 Reactivate 1991 – 2001
With the 90s nostalgia firmly back in the spotlight, Reactivate, the pioneering techno, trance and hard house brand, popularised by cult electronic label React, has been reactivated by demand for a special best of album. 'Reactivate 91-01' will be released on Friday 20th November as a 37 track double CD mixed by 90s DJ icon Rachel Auburn and a 42 track unmixed digital download.
Back in the days when weekends began on Thursdays and 6am was not a late finish in clubland, accelerating track tempos fuelled widespread decadent partying. When London, Berlin and Frankfurt throbbed to the sound of teutonic beats and Svan Vath and Carl Cox spun high-speed techno and trance, Reactivate ruled as the platform to hear the popular underground anthems making waves at the raves.
The Reactivate series, which sold over 500,000 albums, became a byword for new electronic music and introduced the burgeoning, uplifting European trance sound to UK clubbers, where it found favour at London at clubs such as Trade, The Gallery, Heaven, Bagleys, and Peach, plus Scotland and across the regions, as well as Europe, U.S., Australia, South Africa and Asia. The popularity of this sound led to the rise of superclubs such as Cream, Gatecrasher & Gods Kitchen promoting this style of music, which in turn became a pre-cursor for the EDM movement.
As the sound became more ubiquitous, tracks crossed over to the mainstream such as Zero B's 'Lock Up', Jam & Spoon's seminal remix of 'The Age Of Love' and trance anthem Push 'Universal Nation', as well as more quirky releases on the React label such as Mrs Wood's 'Joanna' and Sundance 'Sundance' featured on this album. Other popular cult tracks including Tony De Vit's remix of S-J 'Fever', Marmion 'Schoneberg', Jens 'Loops 'N' Tings, Lemon Project 'Peppermint Lounge' and internationally renowned DJ Armin Van Buuren's 'Blue Fear'.
Rachel Auburn, Original Blitz kid and fashion designer, was raised to club stardom in the nineties by crossover singles under the Candy Girls alias and Freska compilation albums on React, plus legendary DJ residencies at Taboo, Trade and Tidy Trax. To celebrate its release Rachel played tracks from her Reactivate collection at Trade's 25th Birthday.
http://www.react-music.com/
Tracklisting:
Digital download
1 The Age Of Love (Jam & Spoon Remix) – The Age Of Love
2 Point Zero – Li Kwan
3 Shinny (Harmony mix) – Elevator
4 The First Rebirth (Red Jerry Remix) – Jones & Stephenson
5 Violet Rain – Coloured Vision
6 Flagship (21st Anniversary Mix) – Blu Peter
7 Orange Theme – Cygnus X
8 Fever (Tony De Vit Mix) – S-J
9 'Roadrunner' – Mach One
10 'Universal Nation – Push
11 'Outside World' – Sunbeam
12 'Cybertrance' – Blue Alphabet
13 'Magic' – Blu Peter
14 'Evil Queen' (Full Force mix) – Shimmon & Woolfson
15 'Black Magic' – The Hellfire Club
16 'Schoneberg' – Marmion
17 'Loops & Tings' (Fruit Loops mix) – Jens
18 'Pictures In Your Mind' (Arabesque mix) – Blu Peter
19 'Fever' (Baby Doc remix) – S-J
20 'Flagship' (Original Mix) – Blu Peter
21 'Sugar Shack (Surfin' On The Clouds Mix)' – Seb
22 'Tribute' – Friends Lovers and Family
23 'Alpha 5 '(Olmec Heads Remix – John '00' Fleming
24 'Pilgrimage To Paradise' – Sour Mash
25 'Return To Reality' – Antartica
26 'The Living Dream (Transa Remix)' – Sundance
27 'Blue Fear' – Armin
28 'The Awakening' – Mrs Wood
29 'Peppermint Lounge' – Lemon Project
30 'I Feel Divine' (Baby Doc Remix) – S-J
31 'The Bullfrog' – GTO
32 'Rubb It In' – Fierce Ruling Diva
33 'Let's Rock' – E-Trax
34 'Lock Up' – Zero B
35 'The Tape Remix' – B-Sides
36 'Energy Flash' -Beltram
37 'Brazil' – Spectrum
38 'Listen To The Rhythm Flow' – GTO
39 'Hablando' – Ramirez
40 'Rubb It In (Slick Note 2015 Remix)' – Fierce Ruling Diva
41 'Sundance' – Sundance
42 'Joanna' (Tony De Vit V2 Remix) – Mrs Wood
Rachel Auburn DJ Mixes
Mix 1
01. 'Peppermint Lounge' – Lemon Project
02. 'The Bullfrog' – GTO
03. 'Listen To The Rhythm Flow' – GTO
04. 'Energy Flash' – Beltram
05. 'Lock Up' – Zero B
06. ' Brazil' – Spectrum
07. 'The Tape Remix' – B-Sides
08. 'Rubb It In' – Fierce Ruling Diva
09. 'The Awakening' – Mrs Wood
10. 'Hablando' – Ramirez & Pizarro
11. 'Let's Rock' – E-Trax
12. 'Fever (Tony Devit Mix)' – S-J
13. 'Joanna (Tony Devit V2 Remix)' – Mrs Woods
14. 'Magic' – Blu Peter
15. ' I Feel Divine (Baby Doc Mix)' – S-J
16. 'The Pictures In Your Mind (Arabesque Mix)' – Blu Peter
17. 'Alpha 5 (Olmec Heads Remix)' – John '00' Fleming
18. 'Pilgrimage To Paradise (Original Barrel Beat Mix)' – Sourmash
19. 'Black Magic' – The Hellfire Club
Mix 2
01. 'The Age Of Love (Jam and Spoon Remix)' – The Age Of Love
02. 'Sugar Shack' (Surfin' On Clouds Mix) – Seb
03. 'Point Zero' – Li Kwan
04. 'Violet Rain' – Coloured Vision
05. 'Schoneberg' – Marmion
06. 'Tribute (Bucket & Spades)' – Friends, Lovers & Family
07. 'Loops & Tings' (Fruit Loops Mix) – Jens
08. 'Road Runner' – Mach One
09. 'Cybertrance' – Blue Alphabet
10. 'Flagship' (21st Anniversary Mix) – Blu Peter
11. 'Outside World' – Sunbeam
12. 'Return To Reality' – Antartica
13. 'The First Rebirth' (Red Jerry Remix) – Jones & Stephenson –
14. 'Orange Theme' – Cygnus X
15. 'Universal Nation' – Push
16. 'Evil Queen' (Full Force Mix) – Shimmon & Woolfson
17. 'Shinny (Harmony mix)' – Elevator
18. 'Blue Fear' – Armin