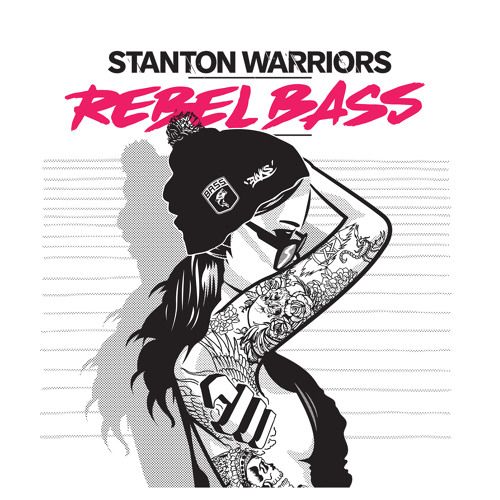 Stanton Warriors - Rebel Bass
Following the huge lead singles Loving Me Wrong and The One, proclaimed "game changing" by leading tastemakers Mixmag, Thump, DJ Mag and Mistajam (BBC Radio 1), UK Bass legends Stanton Warriors get ready to release their highly-anticipated, seventh, studio album Rebel Bass.
Formalising this new juncture in their sound; Rebel Bass showcases the fresh, new sound that Stanton Warriors have been busy crafting over the last year, which draws heavily on their strong Garage roots. Infectious, radio-friendly songs sit comfortably alongside thumping bass bangers, all underpinned by that inimitable bass sound that we've come to know and love from Stanton Warriors.
Rebel Bass will feature a host of very exciting collaborations from the likes of Cause & Affect, aka Chris Lorenzo & Kane (Dirtybird / Food Music), Night Bass King AC Slater (Owsla) and NY's finest Tony Quattro (Trouble & Bass).
On vocal duties, expect none other than the incredible Laura Steel, Eva Lazarus (GotSome, Danny Byrd), Janai (Hannah Wants, Chris Lorenzo) and Lily McKenzie (Giggs).
REBEL BASS – ALBUM TRACKLIST:
01 – Stanton Warriors – Loving Me Wrong
02 – Stanton Warriors & Tony Quattro – Get Low feat. Eva Lazarus
03 – Stanton Warriors & AC Slater – Dig Deeper feat. Eva Lazarus
04 – Stanton Warriors – The One feat. Laura Steel
05 – Stanton Warriors – Dawn feat. Janai
06 – Stanton Warriors – Downfall feat. Lily McKenzie
07 – Stanton Warriors – Too Long feat Lily McKenzie
08 – Stanton Warriors – Hoping
09 – Stanton Warriors – Speakers Moving
10 – Stanton Warriors & Cause & Affect – Never Let It Go feat. Janai