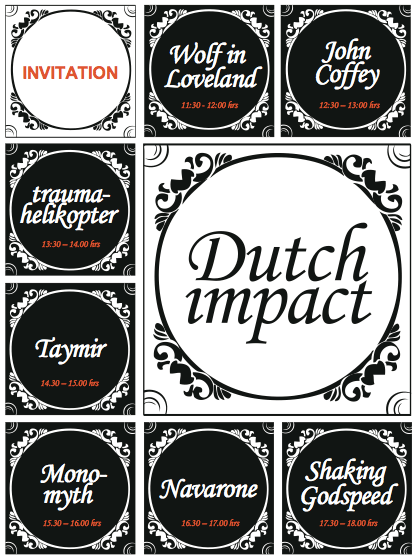 Record number of Dutch acts to play at Reeperbahn Festival
2014 is a record year with 16 Dutch acts set to perform at the annual Reeperbahn Festival in Hamburg. Bringing you the best in up and coming artists from the Lowlands, this years Dutch Impact showcase will feature live performances from 7 bands including; Wolf in Loveland, John Coffey, traumahelikopter, Taymir, Monomyth, Navarone and Shaking Godspeed.
Taking place from 11am – 6pm on Friday 19th September at Gosch (Reeperbahn 19), the event will offer networking opportunities with key players from the Dutch Music Industry and live performances with free drinks and nibbles for delegates and press and master of ceremonies Ruud Berends.
Dutch Impact Showcase running order:
Wolf in Loveland 11.30 12.00
John Coffey 12.30 13.00
traumahelikopter 13.30 14.00
Taymir 14.30 15.00
Monomyth 15.30 16.00
Navarone 16.30 17.00
Shaking Godspeed 17.30 18.00
Other Dutch bands performing during Reeperbahn festival are; David Douglas, The Deaf, DeWolff, Gingerpig, Jara, Kovacs, Playground Zer0, Tears of Marble, Tim Akkerman. More info on venues and dates coming soon.
More info on all the acts performing at Reepherbahn here:
www.dutch-impact.nl/category/festivals/reeperbahn

Dutch acts are hot right now with previous success stories including Dope D.O.D, Jacco Gardener, SKIP&DIE, Birth of Joy and more recently Taymir, who after playing their first ever gig in the UK, bagged themselves a deal with one of the top Booking agents The Agency Group. So don't miss out and check out some of the bands playing at Reepherbahn.
Venue Address: Gosch, Reeperbahn 19, Hamburg
www.gosch.de/standorte/gosch-an-land/gosch-im-keese-hamburg-reeperbahn/