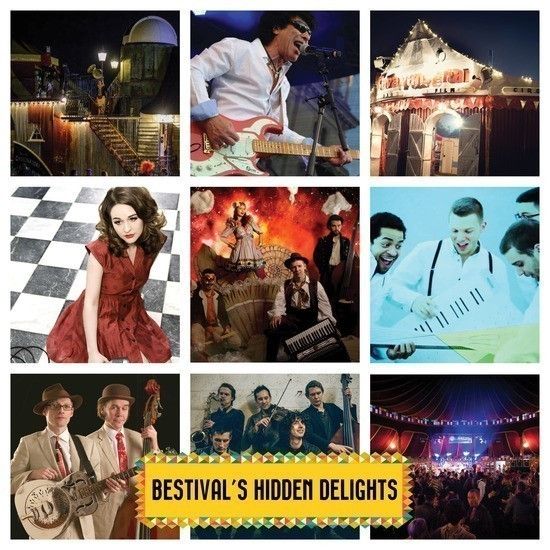 Bestival's Hidden Delights announced
As you wend your merry way across Bestival's Desert Island Disco, past the jaw-dropping brilliance of The Port, and through Bollywood's exotic charms, out across the Stardust Field and beyond, far into the Grassy Hill, you might just be lucky enough to stumble across some of Bestival's fabled jewels and hidden delights. Tucked away in unknown corners there are myriad pleasures to discover, and hours of enchantment and hilarity to unearth. Brimming with wondrous and unexpected raptures, Bestival is a gold mine of the preposterous; a demented kingdom of unanticipated folly in moonstruck fields of Elysium.
Rob da Bank says: "I love all the music at Bestival, (obviously!) but one of the things I get most excited about every year is all the wildness and magical stuff you just fall into without realising what's happening. We've got some top notch line-ups for Club Dada, all the mad Polka stuff in the lovely Travelling Barn and Pig's Big Ballroom action that will make you dance all night long, so be sure to check them out. And keep on exploring – you never know what you might find".

Side-stepping everyday affairs and lurching headlong into inexplicable territories, you may happen upon one of Bestival's greatest hidden treasures, the absurdist utopia that is Club DaDa. Brought to you by Continental Drifts (the peeps behind Shangri La and London Remixed Festival) and DJ Chris Tofu, they'll gleefully fill your brains with the finest swinging new music in a vintage remixed style, before sending you off, further into Bestival's depths.
Keeping everybody who's stumbled upon this particular joy in previous years on their toes, our wildly unpredictable Polka action is moving to a brand new and brilliant wooden home called the Travelling Barn. Featuring an anarchic mash up of the best Balkan and Polka music and the newest young folk musicians and hoedown bands, it's a whirlwind of sound and sensation, with nought but a fantastic Real Ale bar to keep you anchored in realityŠ
Supercharging old school beats and throwing down some deliriously danceable treats, our paean to treasures of yore, Pig's Big Ballroom, programmed by Greg of Greg's Greats renown, always fails to disappoint on an epic scale, blowing all and sundry away with red blooded and vivacious melodic thrills from across musical hinterlands and decades. And this year they have the inimitable Mungo Jerry on board to take things to even greater new heights, too!
And that's not all; Ray-Ban will be on hand for the very first time to share The Order of Never Hide. Join the order online at their website Ray-Ban.com, and then visit their venue in the Magic Meadow to take part in a series of curious challenges soundtracked by our resident Bestival DJs.
Onwards into the unknown, gazing into the heavens, Bestival are proud to present Oberon's Observatory. Built by Dr. Oberon, the observatory is a ramshackle but beautiful edifice with a stargazer's viewing platform, replete with bestiscopes for studying the curiosities happening across the festival and searching for the stars.
And for those in the know, the Caravanserai troubadours have returned once again with a whole new bunch of performers from Cirque Bijou in their wake. Expect the same theatrical wonderstuff, trapeze and magic, an excellent menu at their side-show bar!
Making exploring every corner of Robin Hill a must, don't deny yourself the very real pleasures of Bestival's hidden treasures.
More Desirable Incredible Sexy Crazy Opinions:- www.Bestival.net / Facebook / Twitter / Tumblr / Instagram
NEWLY ANNOUNCED LINE-UPS:
CLUB DADA – KLISCHEE / THE SWEET LIFE SOCIETY / JENOVA COLLECTIVE / MANIERE DES BOHEMIENS / DJ CHRIS TOFU / NICK HOLLYWOOD / THE CHICKEN BROTHERS / SWING PATROL / SAM AND THE WOMP / JOHN FAIRHURST / DJ ECLECTIK MICK / VOODOO LOVE ORCHESTRA / BRASSFUNKEYS / DJ MARC STYLUS / SUBCULTURE SAGE / SWING PATROL BLUES DANCE SPECIAL / PAPERBOY / SIDE WALK DOCTOR / PHOENIX CITY ALL-STARS / BUSTER SHUFFLE / NEW YORK BRASS BAND / TEMPLE FUNK COLLECTIVE
POLKA TENT IN THE TRAVELLING BARN – PENNY METAL / EL GADZÉ / DUNK BALLANTINE / SHAMBOLIQUE / FAKE BUSH / DJ ECLECTIK MICK / JOE FLEMING / PACHANGO / BALKANOES / TEMPLE FUNK COLLECTIVE / DRUNKEN BALORDI / RUTH THEODORE'S BARBERSHOP BLUES / MANIERE DES BOHEMIANS / NEW YORK BRASS BAND / USHTI BABA / KELTRIX / CUT A SHINE / JOHN FAIRHURST / MONSTER CEILIDH BAND / THE DISCOUNT ORCHESTRA / ROB HERON AND THE TEA PAD ORCHESTRA
PIG'S BIG BALLROOM – MUNGO JERRY / GREG'S GREATS / THE SHELLAC COLLECTIVE / THE HENRY BROTHERS / TONY TUNES / STUART / MACBETH & HIS BAND / DR SID / SARA SPADE / HANNAH RICKARD AND THE RELATIVES / DJ 78 / DJ GG / LI'L LONESOME DJ / BROTHER GRAHAM'S HAYRIDE / GENIE AND THE JIVEBOMBERS / MS CHAMELEON'S MECHANICAL MELODIES / THE UNTOUCHABLES / AUNTIE MAUREEN / THOMAS TRUAX / C C SMUGGLERS / IT'S A WIND-UP / THE BLACK CAT BOPPERS / FLUTTER AND WOW / TIP TOP TONY TUNES ROCKIN' PIANO / CALAITA FLAMENCO SON / ETHAN ASH / EZIO / THE ORIGINAL RABBIT FOOT SPASM BAND / THE BOOGIE WOOGIE MAN
BESTIVAL TICKET LINKS & INFORMATION:
www.ticketline.co.uk/bestival-tickets / 0844 888 4410

Adult Ticket with entry from Thursday 4th September – £195
Student Ticket with entry from Thursday 4th September – £180
(For full-time students only. Valid NUS or ISIC ID required at the box office. No other student ID accepted)
Teen (age 13-17) Ticket with entry from Thursday 4th September – £127
Child (age 12 & under) Ticket – Free (but you must obtain a ticket)
Caravan Tickets: £101 (per vehicle)
Campervan Tickets: £90 (per vehicle)
Advance Car Parking – £15

All Tickets:
– will incur a booking fee.
– there are no Day Tickets.
– incur a £1 donation to the Isle Of Wight Youth Trust*.

THE ISLE OF WIGHT YOUTH TRUST CHARITY DONATION
*This year we are adding on a £1 charity donation onto all Bestival tickets. The money raised will go directly to the Isle Of Wight Youth Trust (Reg Charity no. 1087163) to help fund their fantastic work offering counselling and support to young people aged 25 and under on the Isle of Wight. The Bestival Foundation is also a proud supporter of the Youth Trust.

Travel: Book Now For Best Early Prices
Wightlink – www.wightlink.co.uk/bestival / 0871 376 1000
Red Funnel – www.redfunnel.co.uk/bestival / 0844 844 9988
Hovertravel – www.hovertravel.co.uk/bestival2014 / 01983 811000
Big Green Coach – www.biggreencoach.co.uk/bestival

www.bestival.net / facebook.com/bestivalfestival / Twitter: @bestival