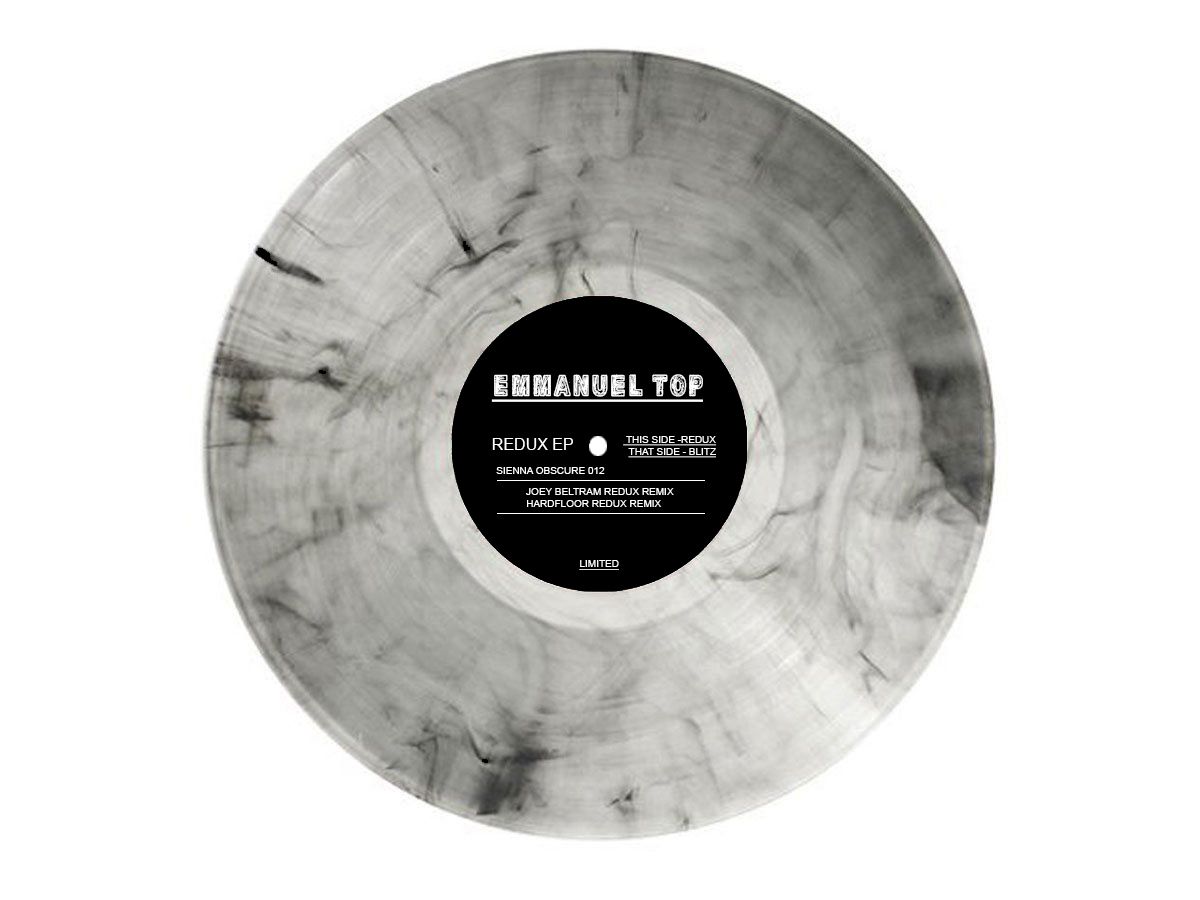 Emmanuel Top - Redux EP
Beginning in the early '90s, Emmanuel Top became France's first techno superstar, even if his popularity was greater in countries like Germany and England than his own. He released a multitude of 12"s on the Attack label — La Pipe a Eau, Krankenhaus, Ecsta-Deal, Stress, Turkish Bazar, and many more — many of which are compiled on the triple-disc Release collection from 1995.
Top's next step took him to Nova Mute alongside heavyweights like Plastikman. In addition to his solo work, Top also collaborated with Bruno Sanchioni and Bruno Quartier in the mid- to late '90s as the trance act B.B.E. ("Seven Days and One Week") and also as Age of Love (the original "Age of Love").
For his latest release, Top perks up on emerging Chilean label, Sienna Obscure. Helmed by producer Jeavan Vega, the label has already played host to some of techno's foremost players, with Steve Rachmad, Neil Landstrumm, Steve Stoll and Philippe Petit just some of those who've graced the label in recent times. Entitled the Redux EP, it sees Top deliver two exceptional originals, with remixes coming from none other than Hardfloor and Joey Beltram.
The release opens with the title track, 'Redux'. A slamming peak-time number full of tense atmosphere, it quickly unfurls into a track of gargantuan proportions. By the time the acid-led baseline plays out, it's drawn the listener in hook, line and sinker. The other original, 'Blitz', is no less manic. Again, the 909 plays a prominent role, this time alongside another cast of ominous, unrelenting beats.
Hardfloor then emerge with their remix of 'Redux'. A catchy monster that's made for peak time floors, its almost abrasive feel is matched only by its steely, industrial motifs. Although it deviates windily from the original, it's nonetheless a fitting tribute. Culminating the package is Joey Beltram, who (momentarily, at least) takes matters down a notch on his interpretation of 'Redux'. Beltram's history in techno circles needs no explaining, and this remix is ample proof that he's evidently in no mood to slow down any time soon. A raucous reworking, it closes the release in assured style.