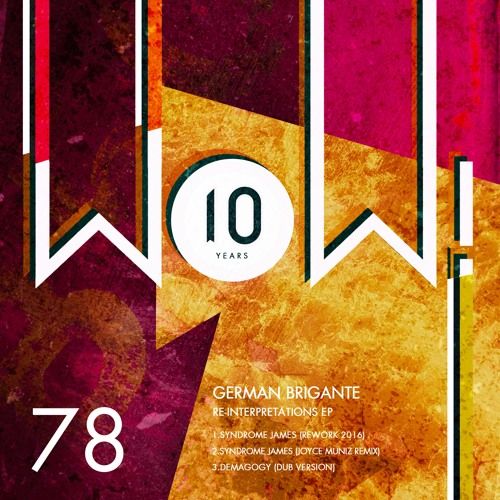 German Brigante - Reinterpretaions EP
29th August sees highly regarded DJ/Producer German Brigante return to Mar-T's celebrated imprint Wow! Recordings with his latest EP entitled, 'Re-Interpretations'.
This excellent 3-track release follows the talented Spaniard's previous Wow Recordings outing entitled 'Look It's Me (Remixed)' EP (2015) plus several high-profile releases on respected labels such as; Get Physical, Off Recordings, Suara and Dirtybird.
Kicking off proceedings is Brigante's fresh edit of 'Syndrome James', which was originally released in 2014. The deep groover revolves around a heavily manipulated detuned vocal, as a number of scattered sound effects, winding synths and a stirring selection of drums are introduced.
Next up, we have a stunning remix from the revered Vienna-based Brazilian DJ/vocalist/producer Joyce Muniz, who transforms 'Syndrome James' into an killer Tech-House track, chopping up the original's vocals and looping them over a dark pulsating groove and powerful bassline.
Concluding the package is Brigante's 'Demagogy' (originally released in 2012) which undergoes a new dub edit, encompassing numerous synth stabs, bongos and other off-kilter sounds to accompany the original's uncompromising four-on-the-floor rhythm.
'Re-Interpretations' EP is available exclusively via Beatport on August 29th and everywhere else two weeks later.
TRACKLIST
01. German Brigante – Syndrone James (Rework 2016)
02. German Brigante – Syndrone James (Joyce Muniz Remix)
03. German Brigante – Demagogy (Dub Version)