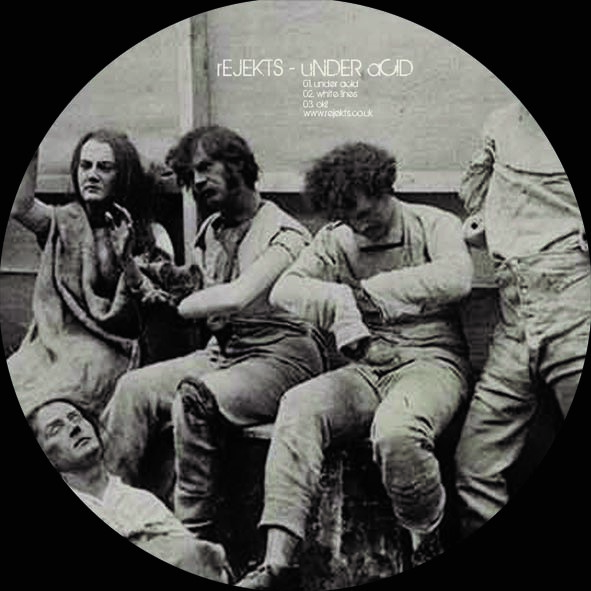 rEJEKTS – Under Acid EP
Part 1 in a series of EP's from their forthcoming 7.5 Years of rEJEKT double album and mix compilation:
Track 1: rEJEKTS – Under Acid (Original Mix):
Under Acid is as Tom Findlay from Groove Armada calls it "Pure Acid Heaven"! A stripped back 303 bassline driven track that wear's a gun belt around it's knee's. Skirting the line between House and Techno it's a slab of tripped out hypnotic funk. A sleek and sophisticated take on the original Trax Records sound eminating from Chicago in the late 80's.
Track 2: rEJEKTS – White Lines (Original Mix):
A track made for big sound systems. You will struggle to feel the full impact of a track like this on your PC speakers or home stereo. Stripped down to its bare bones with little more than a throbbing rumbling bassline, subtle haunting vocals and disorientating sonic hits. It's a complex piece of music made to sound remarkably simple. PLAY IT VERY LOUD PLEASE!
Track 3: rEJEKTS – oKiL (Original Mix)
An all out dancefloor track "no mistakin". As someone famously once said "If this don't make your booty move your booty must be dead"! No nonsense, heads down, four to the floor Techno. A club banger. A simple but effective off beat bassline with a complimenting saw synth which drives the track along accompanied by brooding and rising futuristic melodies keeping the senses excited as your body jerks uncontrollably as the disco freak inside you tries to get out.
Call it whatever you like! Techno, Tech House, Stripped Back, Minimal. Just play it loud!!