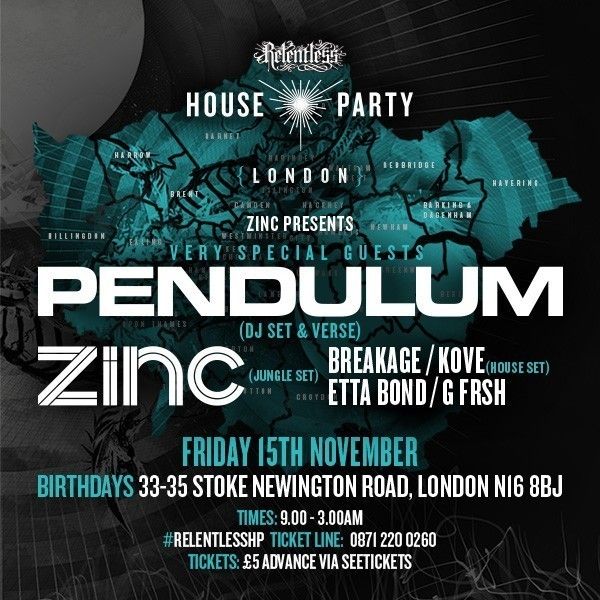 Relentless House Party London
RELENTLESS HOUSE PARTY LONDON
Very special guests
PENDULUM (DJ Set and Verse)
ZINC (Jungle Set)
Breakage
Kove (House set)
Etta Bond
G FrSH
Good house parties are the stuff that memories are made of – a melting pot of style, social indulgence, fun and mischief. There's DJs turning up with crates of records, microphone battles, swathes of people at the door, hang-outs and plenty of dancing.
A household name for many electronic music fans, big-bass superweights PENDULUM. will be in the building for an extra-special headline DJ set. This is a rare intimate appearance from the boys who have graced some of the world's biggest stages. They will also be joined by long-standing Pendulum MC, VERSE to give that authentic house party feel.
From drum'n'bass to his own signature 'crack house' – genre defying house and bass hero DJ ZINC will be bring his timeless style to the Relentless House Party. With a hectic winter schedule including big-room sets such as Warehouse Project – this set will be one of the most up-close and personal Zinc appearances of the season.
Carving his name in the drum and bass scene, BREAKAGE brings a musical palette of strong vocals and synth-driven energetic house influences with dark undertones. From productions featuring Newham Generals and Dismantle to remixes for Florence And The Machine – Breakage ticks all the boxes for this Reletless House Party basement rave.
There will also be two amazing live performances on the night. First up ETTA BOND, who has been gathering some serious momentum as the hot name on a lot of underground music lovers lips. Etta mixes up spoken and sung lyrics with the kind of attitude and prowess that can't be canned, bottled or sold. We can't wait to see her perform for Relentless.
Don't sleep on it! Enjoy the experience at Relentless House Party.