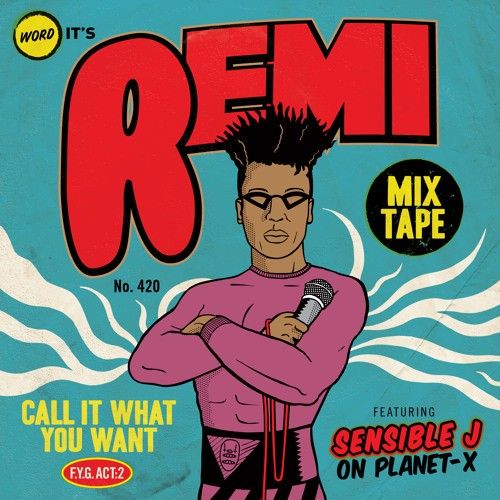 REMI - REMI – Weirdos (From Planet HOB)
Following the incredible success of the multiple-award winning album 'Raw X Infinity' today REMI has revealed the first track and full track-listing of the forthcoming free Mixtape 'Call It What You Want' (F.Y.G. ACT:2).
The first taste, a track titled 'Weirdos (From Planet HOB)', again consolidates the young Melbourne MC REMI and musical collaborator Sensible J's growing reputation as a formidable forward-thinking creative duo with something important to say.
"Weirdos (From Planet HOB) is basically about feeling like an outsider in whatever circumstance you're in, I think a lot of people can relate to that."
This new 7-track mixtape will be the sequel to REMI's 2013 breakout mixtape F.Y.G. ACT:1 (which contained the singles Sangriaand Saggin) and features Sensible J sampling some of REMI's all-time favourite tracks, from a surprisingly diverse array of artists, and exudes REMI's unique semi-tongue-in-cheek braggadocios MC style, rhythmic flow and honest delivery.
'Call It What You Want' (F.Y.G. ACT:2) drops next Thursday the 14th May as a completely free download through REMI's Bandcamp page.
To celebrate the release of the mixtape REMI will be performing a select bunch of UK festivals and free club shows throughout May (details below).
UK/EU Live Dates
12/05 – Vienna Arena, Vienna, Austria
15/05 – The Great Escape, Brighton, UK
16/05 – Aussie BBQ @ The Great Escape, Brighton, UK
17/05 – Aussie BBQ @ Hoxton B&K, London, UK
19/05 – Brudenell Social Club, Leeds, UK
20/05 – King Tuts, Glasgow, UK
22/05 – Dot To Dot Festival, Manchester, UK
23/05 – Liverpool Sound City, Liverpool, UK
23/05 – Dot To Dot Festival, Bristol, UK
24/05 – Dot To Dot Festival, Nottingham, UK
27/05 – Tooting Tram & Social, London, UK
29/05 – VICE House Party @ Old Blue Last, London, UK
30/05 – Bad Bonn Kilbi, Dudingen, Germany