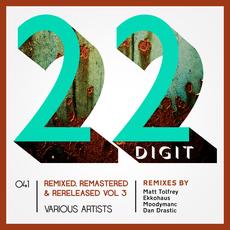 Remixed, Remastered & Rereleased Vol 3
22 Digit Records joins the Mainline PR roster just after the launch of its new project, '22 Digit LTD', which marks the label's move away from digital-only releases. 22 Digit LTD will be pressing up limited runs of 300 coloured marble vinyl, and with cuts already signed from the likes of Trus'me, Inxec and Tom Ellis, 2014 is going to be a big year for the label – particularly as one half of 22 Digit, Pete Bartram, has recently been announced as the new resident for legendary Newcastle event, Shindig.
After a short hiatus to get things ready for the launch of 22 Digit LTD, the label are serving us up a reminder of what they are all about with another showcase EP… Featuring remixes from Matt Tolfrey (Leftroom Records), Ekkohaus (Moon Harbour Recordings), Moodymanc (2020 Vision) and Dan drastic (Moon Harbour Recordings), it covers the full spectrum of house music. In fact, this release has something for everyone who is a true fan of the genre.