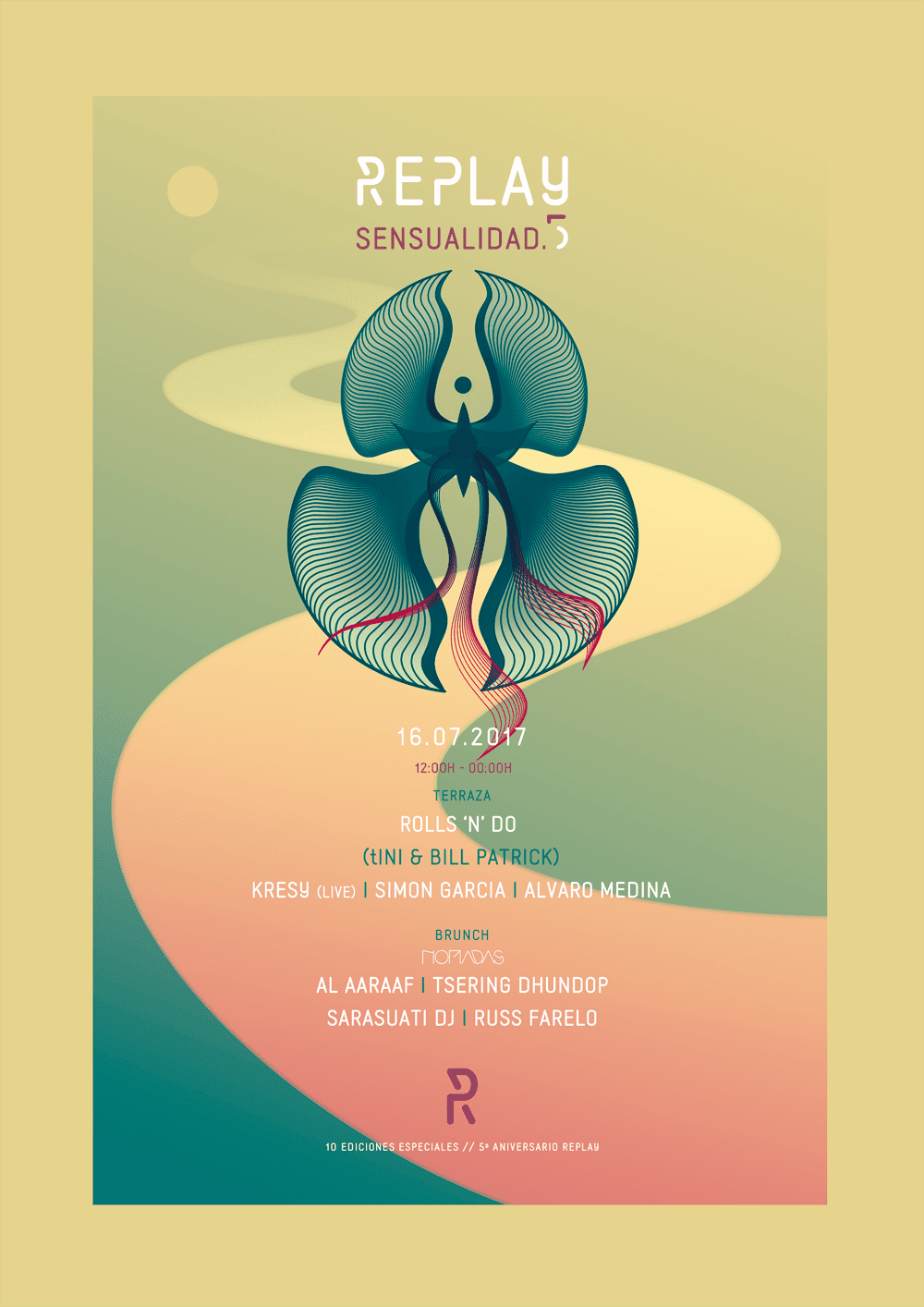 Replay in July with Rolls 'n' do (tINI & Bill Patrick), Kresy and more
On Sunday 16th of July, the sixth of the ten special events that Replay has scheduled on its 5th Anniversary will be celebrated, under the concept of SENSUALITY. The line-up is composed by Rolls "n" Do, Kress, DJs from the collective Nómadas and residentes Simon Garcia and Alvaro Medina.
SENSUALITY arrives with news such as the move of the BRUNCH to the pool, the incorporation of new shaded zones and a big free BBQ.
SENSUALITY, the sixth edition of Replay in the year of its fifth anniversary, will take place on Sunday 16th of July. The party will start at 12:00 in the BRUNCH zone which moves to the pool with new shaded areas. There will be also a big free BBQ to start the day with energy. As usual, those who enter before 14:00h will be able to enjoy an open bar for beer and free stamps, being able to go out up until 16:00h. Music during these first four hours will be by the electronic-ethnic collective Nómadas, formed by Al Aaraaf, TseringDhundop, Sarasuati Dj and Russ Farelo, a perfect representative of what is known as Electronic World Music, a gender that explores the spiritual possibilities and the cultural fusion of electronic music.
From 16:00h until 00:00h it´ll be the turn of the "Open-Air" Terrace, equipped with the well known super fans, shaded zones, pulverized water, a new VIP space and its powerful and characteristic sound system, trademark of the brand. This time the responsibles for the music will be Rolls "n" Do, the ensemble project of tINI and Bill Patrick renowned in the industry for their special predilection to playing long sets with a Tech/Minimal House sound as the protagonist. Kresy (live) will be there too who besides releasing on labels such as Hivern Discs (John Talabot´s) or Freerange Records, is Discomaths owner. And of course, the indispensable residentes Simon Garcia and Alvaro Medina.
Tickets are on sale and can be acquired for a special price via Fever and later on Resident Advisor, Entradas a tu Alcance and the network of post offices in Spain. As per usual, REPLAY can be reached using its official buses that depart every hour from Plaza de España.