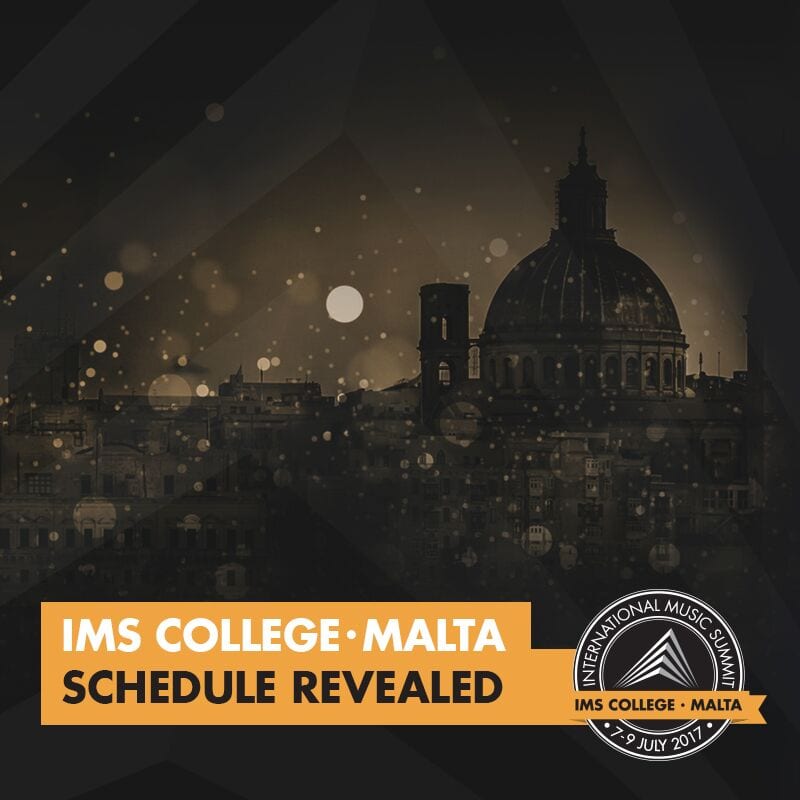 Ims College – Malta Reveal 2017 Summer Camp Schedule
International artists Sven Väth, Agoria, UNER and Technasia join industry leaders and production experts from AFEM, Beatport, Mobilee, Toolroom Academy, R&S Records and more
IMS COLLEGE: A crash course in electronic music. Learn by day, party by night.
July 7-9
Summer Camp badge prices €70 for 2 days and 3-night time parties
Following the successful 10-year anniversary of International Music Summit (IMS) in Ibiza, IMS now bring their thought-leadership platform to Malta. IMS College – Malta, a uniquely curated educational initiative aimed at emerging electronic music professionals and future industry visionaries, has now revealed its final schedule for 2017, bringing together a powerful collection of leading electronic music experts and artists to educate the next generation with their experience and knowledge.
By day attendees will experience two full days of interactive workshops, inspiring keynotes and learning sessions covering four key pillars of music education: Performance, Production, Promotion and Publishing. Partnering with leading music education institutes Point Blank Music School, Berklee College of Music and Toolroom Academy, the two-days of learning are designed to help nurture and boost the careers of emerging electronic music industry professionals. By night attendees will experience specially curated parties and events showcasing the best international electronic music talent.
Day one of the summer camp on Friday 7th July, hosted by Point Blank Music School, opens with an inspiring keynote on originality from R&S Records founder Renaat Vandepapeliere. Ralf Kollmann, co-founder of Mobilee Records, will share his knowledge on publishing, artist management, licensing agreements and the secrets of how to pitch to labels to get your records heard. Point Blank Music School will present four insightful sessions; a creativity and songwriting class with Spanish artist UNER led by Carly Hordern, a track deconstruction masterclass in Ableton Live, a masterclass on 'Essential Production Tips: Mixing Your Tracks for the Club' and finally a focus on composing for Film and TV withAgoria. The day will close with an extraordinary keynote by German techno pioneer and Cocoon founderSven Väth, followed by a speed networking session, giving attendees the chance to connect with and get noticed by leading industry professionals.
Saturday 8th July presents day two of IMS College – Malta, opening with a discussion from leading Maltese electronic music artists on the local scene, followed by upcoming female Russian DJ Mia Amarerevealing how IMS College has helped shape her career. Director of Toolroom Records Stuart Knightwill enlighten attendees on the secrets of getting noticed and signed in the industry, with further label insights coming from Mark Brown, CEO of CR2 Records, who will also be exclusively revealing a new educational initiative from the label. Nacho Marco of Berklee College of Music, will be leading a production workshop where he will analyse one of his own tracks to show a real example of producing a dance music EP.
US dance music retailer Beatport, represented by Jack Bridges, Director of Artists, Labels, Sounds, will explain how the platform can help independent artists promote their music, in addition, Mark Lawrence,CEO of AFEM: Association for Electronic Music will outline the importance of Publishing. Closing day two is an intimate keynote with Technasia, one of the key artists driving forward thoughtful electronic music, who will give insights into his working career.
Each day of IMS College – Malta is paired with official evening parties with world class DJ talent with some of the genres biggest names and genre defining DJs, including Sven Väth, Agoria, Todd Terry and Richy Ahmed.
Friday 7th July – Hosted by Point Blank Music School
12.00-12.05 Introduction by IMS Partners
12.05-12.25 Production: Keynote Interview – Renaat Vandepapeliere (R&S Records, Founder, Belgium)
12.30-13.00 Production: Creativity & Songwriting Class – UNER (Artist, Spain)
13.05-13.50 Production: Track Deconstruction – Ski Oakenfull (Point Blank, Content Development, UK)
13.55-14.25 Publishing: Keynote Interview – Ralf Kollmann (Mobilee, Co-Founder, Germany)
NETWORKING LUNCH
15.05-15.50 Production: Composing for Film & TV Masterclass – Agoria (Artist, France)
15.55-16.40 Production: Mixing Your Tracks For The Club – JC Concato (Point Blank, Creative Director, UK)
16.45-17.30 Performance: Keynote Interview – Sven Väth
17.35-18.30 Promotion: Networking Session – Your Chance To Get Noticed
Saturday 8th July
12.05-12.25 Production: Local DJ's Share Their Knowledge On The Malta Scene
12.50-13.05 Performance: Discussion – Mia Amare (Artist, Russia)
13.10-13.55 Promotion: Keynote Interview – Stuart Knight (Toolroom Records, Director, UK)
14.00-15.00 Production: Track Dissection Masterclass – Nacho Marco (Berklee College of Music, Professor, Spain)
NETWORKING LUNCH
15.40-16.25 Production: CR2 Records Discussion – Mark Brown (CR2 Records, CEO, UK) & Laurence Holcombe (CR2 Records, UK)
16.30-17.00 Promotion: Keynote Interview – Jack Bridges (Beatport, Director of Artists, Labels, Sounds, Berlin)
17.05-17.50 Publishing: Keynote Interview – Mark Lawrence (AFEM, CEO, UK)
17.55-18.40 Performance: Keynote Interview – Technasia (Artist, France)
18.40-19.30 Promotion: Networking Session – Your Chance To Get Noticed
Boiler Plate:
The Mission
International Music Summit is an educational, inspirational and motivational thought leadership platform dedicated to creating and encouraging the awareness of, and appreciation for, electronic music, and the artistry related to DJing and related art forms – primarily through the presentation of summits and events that celebrate both the historic and ongoing contribution of the genre to culture worldwide. IMS annually hosts major events globally in Ibiza, Los Angeles, China and Malta. IMS was created by Ben Turner, Danny Whittle, Mark Netto, Pete Tong & Simeon Friend.
www.internationalmusicsummit.com