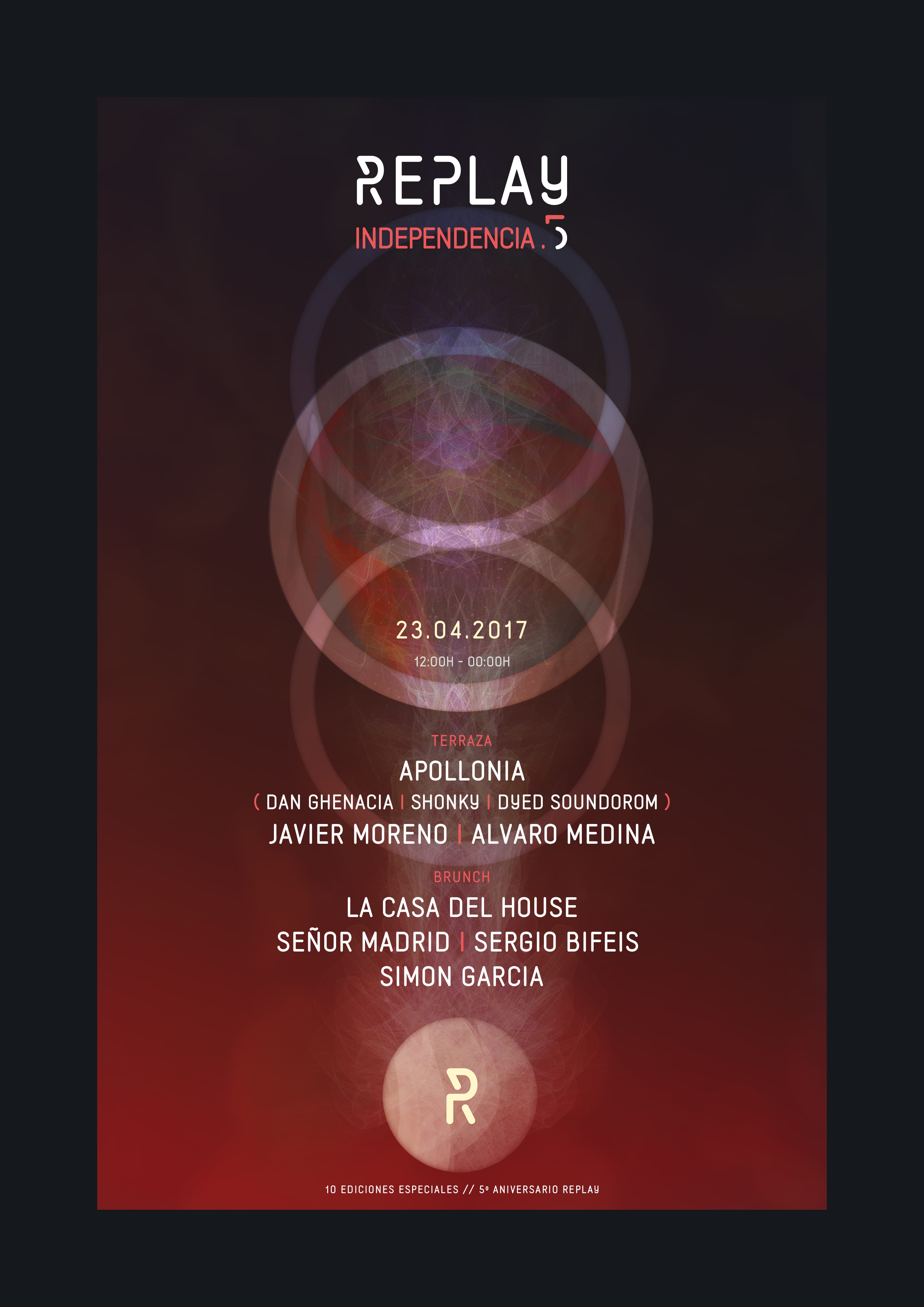 REPLAY presents INDEPENDENCE with Apollonia as headliner
REPLAY promised us that this year would be a memorable one due to the occasion of the celebration of its fifth anniversary, and it hasn't disappointed us. REPLAY's last event was developed under the concept of ENERGY and it received the spring in the capital with an exultant Sven Väth, whom the weather and public accompanied in the same frenzy state. A perfect Sunday in which the German´s performance wasn't the only one to highlight, since Jennifer Cardini gave one of the most amazing performances we have enjoyed this season on the Terrace.
After the necessary recharge of energy, it's time for the fight, it's INDEPENDENCE's turn and the best way to do it is with Apollonia on the Terrace. On the 23rd of April the French trio formed by Dyed Soundorom, Dan Ghenacia and Shonky will be the headliner. A union of artists which has proved itself as genuinely successful not only in Paris' underground scene, to whose development they have contributed a lot, but also at an international level. They will perform alongside two huge national artists, Javier Moreno, from the collective and label Colt, and Alvaro Medina, resident and ambassador of Replay´s sound. The collective La Casa del House, represented by its residents Señor Madrid and Sergio Bifeis, will join resident Simón García to inaugurate the Brunch area for the season on the stage next to the pool from 12:00h to 16:00h. This musical project has only one objective in mind and that is to defend House in every single aspect, from Disco to Deep, with sets full of energy, quality and above all, fun.
On the 23rd of April, with spring in its full splendour, REPLAY will once again be the only club in the capital which offers an enviable selection of artists to enjoy the best electronic music outdoors. Tickets can be acquired for a special price via Fever, also in Resident Advisor, Entradas a tu Alcance and the network of post offices in Spain. As usual, REPLAY can be reached using its official buses that depart every hour from Plaza de España.