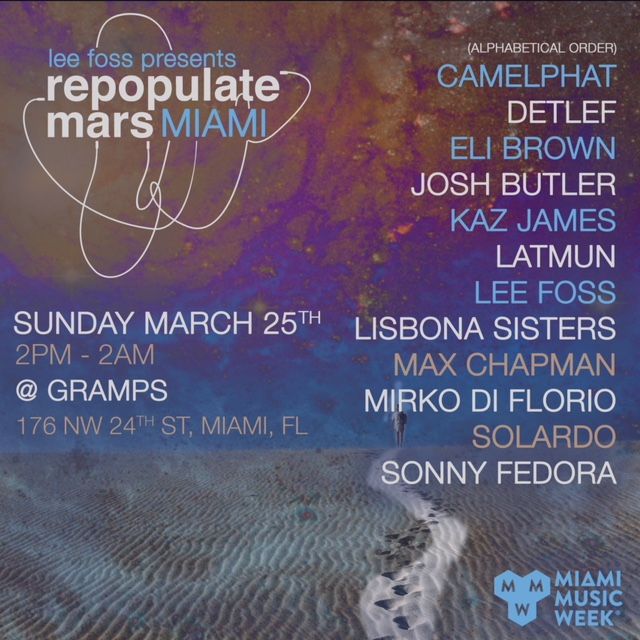 Repopulate Mars returns to Miami Music Week
Having launched in 2015, Lee Foss' conceptual brand Repopulate Mars has been touring across the globe with an aim to bring 'alien funk' and intergalactic productions to transform both clubs and festivals alike. Returning to Miami this March for their annual Miami Music Week party, the 12-hour affair sees Lee enlist a wealth of international talent.
Taking place in the spectacular art-deco venue Gramps, Lee will be joined by some of the hottest underground talent coming out the UK at the moment including Solardo, Sonny Fodera, Max Chapman, Latmun, Detlef, Eli Brown, Grammy-nominated Camelphat and Josh Butler. Also on the bill is Australian producer Kaz James, Ibiza mainstay Mirko Di Florio and Californian duo Lisbona Sisters.
Describing the event Lee Foss says, "Repolulate Mars will open a wormhole in time and space bringing alian jams from the future to a party on Mars where we will have punk funk kids shedding clothes, aliens shedding skin and cyborgs getting down."
With no bounds to his creativity, Lee started Repopulate Mars as a party series to bring together like minded people in a space where guests are given the freedom to unleash their artistry, encouraging eclectic and transcendental style. Every detail is catered to from the extraterrestrial stage production and decor and dancers to the spellbinding DJ sets. Last year, Lee expanded the brand to launch a label in order to give a platform to his eclectic tastes enlisting artists such as MK, Sonny Fodera, Paolo Martini, Eli Brown and Camelphat as well as his own original productions.
For more information on Repopulate Mars, please visit:
https://soundcloud.com/repopulatemars
https://www.facebook.com/repopulatemars/
https://twitter.com/RepopulateMars
For more information on Lee Foss, please visit:
https://soundcloud.com/leefoss
https://twitter.com/leefossmusic
https://www.facebook.com/leefossofficial/