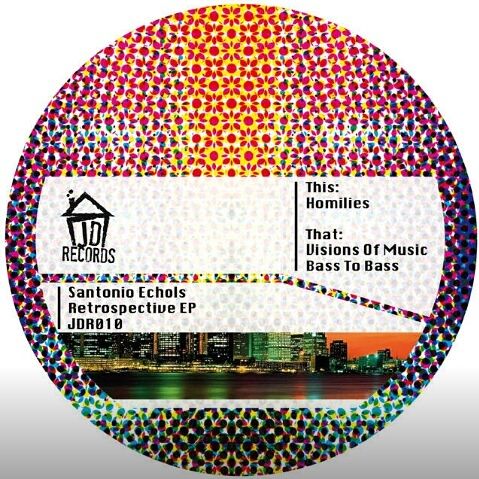 Santonio Echols - Retrospective EP
Following the release of three stellar projects – 'Soul Invasion', a remix of God Of The Machine's 'Warpaint' and 'Jazz Intrusion', Santonio Echols is now following up with another top-notch project by the name of 'Retrospective EP'. Out on Vinly on the 28th of October, 2015, 'Retrospective EP' is seeking to add more weight to Santonio Echols' rich catalogue and continue his streak of outstanding, hit productions.
Hailing from Detroit, Santonio Echols is one of the finest producers to come out of his hometown in the 80s and he's established himself as an international ambassador for Detroit style Techno and House. With over 28 years of experience in the electronic music business, Santonio Echols has inked deals with some of the world's most renowned labels, including the likes of: Tresor, Detroit Dancer, London FFrr, KMS, Decks Tracks, Opilec Music, React Records, Serious Grooves, D Records, Soiree Records, Random Noise Recordings, M.I.D Records, Express Records, Siren, Chapter 2 Recordings and Jambalay Records amongst others.
Whilst being know as one half of the legendary underground duo Reese & Santonio, Santonio Echols can also boast multiple heavyweight collaborations with A-list artists like: Nikolaos Moiré Patterns, Clemens Neufeld, Oliver Lieb, Combinator, Jonas Asp, Duane Evans, Orlando Voorn, MoBlack, Dj Deep, Greg Stafford, Claude Young, Blake Baxter, Eddie Fowlkes, Raquel Roberts, QuWonna Toney, Mike Anderson and Robert Doubledee Mills to name a few. Continuously busy in his studio cooking up new music, Santonio Echols is now presenting his latest creation 'Retrospective EP' – a three track package showcasing his signature Detroit style timbre.
'Retrospective EP' holds three enticing tracks – 'Homilies', 'Visions Of Music' and 'Bass To Bass'. First up, 'Homilies' puts Santonio Echols' House flavours in full display with an infectious groove, soulful, rhythmic vocals and intricate piano arrangements. On the other hand 'Visions Of Music' puts through a more uplifting vibe, with a slightly faster tempo, a 16th feel groove and humming vocals that truly blend well to create a banging effort. Last but not least, 'Bass To Bass' showcases the deeper end of Santonio Echols' flavours. A funky synth arrangement melds together with a traditional House style beat whilst building up towards a subby segment which gives this production a truly unique feel.
Santonio Echols' latest Vinyl wonder 'Retrospective EP' is now the 10th release on JD Records' growing catalogue. Established in 2013, the Barcelona based label is run by Jimi Disko at Subwax Bcn and showcases the works of stellar artists like: Lay-far, Clip!, Terrence Parker, Kenny Dixon Jr, Ghetto Brothers, Jorge Caiado, Orlando Voorn, Pyrenees and Pau Roca to name a few. Santonio Echols is certainly adding weight to the JD Records family and will surely aid in further establishing this imprint within the Dance music scene.