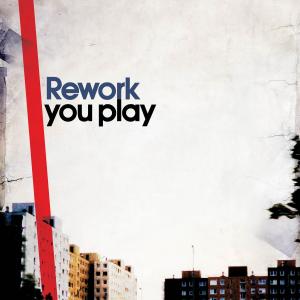 Rework – You Play
Visionquest welcome talented production trio Rework onto the label with 'You Play', an album of eleven crisp and wonderfully rich tracks combining elegant rhythms with snappy vocals that blurs the distinction between the underground elite and modern popular culture.
Rework are two German boys and a girl from a punk band background. Their 'You Play'album has a rock n roll attitude to the dancefloor, spiced up with French and English lyrics about the ramblings of that crazy little thing called love.
Following critically acclaimed work on the much ­esteemed Playhouse imprint, their third album signifies a change in intensity for Rework's Anglo­French funk antics, adding a dash of dancefloor melancholy. Rework understand how music works for the dancefloor with key tracks such as 'Flowers and Girlfriends' and title track 'You Play' cut for serious musicheads, while the futuristic melodies of Rework's 'Perfect Gun' have a new­wave feel reaching into sublime pop territory.
BACKGROUND
Daniel Varga and Michael Kuebler formed Rework in the year 2000. Five years later Sascha Hedgehog, front girl of the French beat­punk band Les Quitriche joined the group. They earnedtheir dance music stripes with a series of strong releases, most notably on Frankfurt­ based techno institution Playhouse.
More recently their accolades include releases on Magda's Items & Things and the Parisian label Meant records, and they are currently collaborating with Jennifer Cardini, Seth Troxler (with a release penned for his new label this Spring also) and many others.
Aside from producing their own music, Rework have done remixes for the likes of AlterEgo, Chloe, Magda, Losoul and Trentemoller and have launched their own record label Loveyeah early in 2014.
Interested in all elements of creativity, REWORK have also collaborated in a fashion filmtrilogy, "The Copenhagen Experience" by Mads Nørgaard with a cover of the Danish punk­hymn "Copenhagen", remixed by Trentemoller. The film features super model Freja Beha Erichsenand Rework live at the Copenhagen fashion week.
The Visionquest imprint was launched in 2011 by the freshest wave of new producers to emerge from Detroit in a decade, Seth Troxler, Ryan Crosson, Shaun Reeves and Lee Curtis. Reflecting their diverse outlook, and free from the constraints of genre­specifics, the record label is a home for friends, newcomers and established artists alike and one of the most talked about imprints of recent times. Visionquest has delivered exciting early music from Benoit & Sergio, Maceo Plex, Tale Of Us, Guy Gerber as well as albums from the undiscovered talents of Footprintz, Dinky, Wareika and Crosson & Merveille, proving the four have never been scared to take exciting chances with their A&R choices. Events in WMC Miami, fabric in London andDC10 in Ibiza plus their daring Visionquest Thirteen series illustrate their desire to step outsidethe norm and be adventurous in every factor of their activities.
LINKS
www.wannarework.de
soundcloud.com/wannarework
www.discogs.com/artist/rework
www.facebook.com/wannarework
www.loveloveloveyeah.com