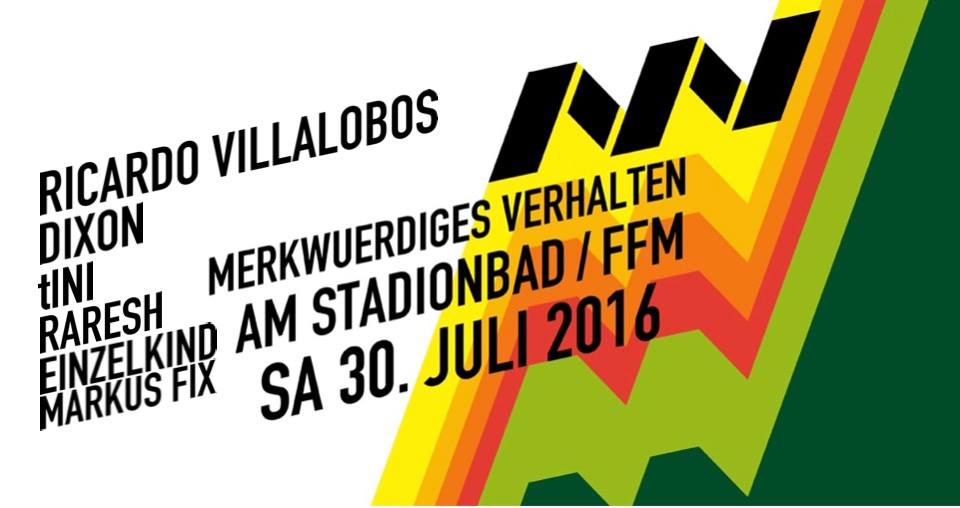 Ricardo Villalobos, Dixon, Raresh and tINI play Frankfurt outdoors event
On July 30th electronic music festival "Merkwürdiges Verhalten" will be celebrated again.
For 16 years, this has been one of the most famous electronic music events held in the region of Frankfurt am Main.
Each year the organizer chooses a very special venue, once it was set in a beach-like environment, another time it was held on a lush green site outdoors and also at night in the Club. What never changes is our slogan: Sun, Joy & the Best Music!
This year visitors will live a new and unique outdoor experience besides the Commerzbank Arena and Frankfurt Stadium pool. Pairing the location with a unique selection of DJs ensures the best line-up possible.
Besides Ricardo Villalobos, Dixon and tINI, we´ll also have artists like Raresh, Markus Fix, Einzelkind who will ensure an unforgettable day of summer!
Tickets pre-sale sold out after just 48 hours. Do not miss the opportunity to be part of this unforgettable day and get your ticket at www.merkwuerdigesverhalten.de