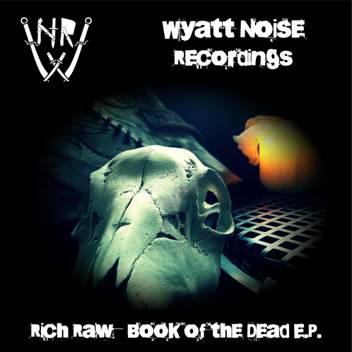 RICH RAW – BOOK OF THE DEAD EP
Rich Raw takes control of his Wyatt Noise Recordings label to close out their first year in business with undoubtedly his biggest release yet. Coming on strong with four bruising slabs of drum & bass from pure unadulterated rollers to more experimental jump-up and beyond the 'Book Of The Dead EP' polishes off 2013 on a high….despite its name!
We here love a good intro and Rich comes up trumps on 'Book Of The Dead' creeping the living daylights out of us with the eerie cinematics and vocal before we suddenly drop head-first into a turbo-charged journey of proper stripped back D&B full of low-slung fun. Proper! 'Gama Base 9' then shows Raw in more unchartered territories with a militant robo-stomper full of square wave synths and super deadly amen edits.
'Waveforms' takes us back into trademark Rich Raw as he delivers another deadly sonic torpedo ready to blow up a dance floor near you very soon with its huge stepping break and dirty riff all underpinned by a huge sub ready to rattle your ribcage. It's left to his 'Headz Tune' to outro the EP and it does it fine experimental style, mashing up an array of breaks both old school and new for a tech-infused piece of D&B trickery showing there's a lot more to come from Wyatt Noise in 2014.

www.wyattnoiserecordings.co.uk