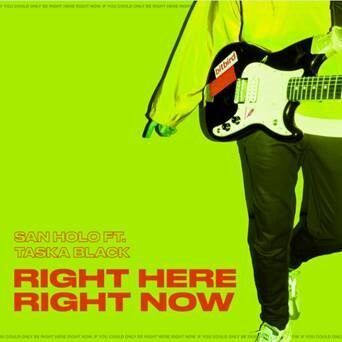 San Holo - Right Here, Right Now
Having released his EP The Trip right after Christmas last year, San Holo is starting 2018 with his honest new single, featuring fellow bitbird labelmate Taska Black which premiered exclusively on Sirius XM's BPM.
"Right Here, Right Now" is another entry in the producer's songbook of tracks that come from a more personal place. Check out the official lyric video HERE. Similar to the themes of enjoying what's going on in the moment such as in "One Thing", this new single is a note to self to enjoy the "Right Here, Right Now" more often. He imagines the song to be sung from the perspective of a significant other, struggling to be with someone who never seems to be really in the moment.
San Holo explains: "For me, music has always been my number one, it's what keeps me going. Yet sometimes that results in having to disappoint people, having no time and headspace for anything else. Yet, I don't think that's gonna change anytime soon. Maybe someday I'll learn to be in the here and now properly. We'll see :)"
San Holo's headlining fall tour saw him sell out shows in major markets Austin, Boston, Chicago, Dallas, Denver, Houston, Los Angeles, San Francisco, and more en-route to over 33,000 tickets sold over 30 dates. This spring San will embark on a festival tour highlighted by appearances at Coachella, EDC Las Vegas, Hangout Music Festival, Electric Forest and more. See full list of dates below.
The song is a first time San Holo feature for Taska Black, one of dance music's brightest young producers with a promising future in both the pop and electronic spheres. With shows scheduled at festivals such as Bonnaroo and Lollapalooza France and a series of enticing singles still to come, Taska is set to have a breakout year.
"Right Here Right Now"
iTunes | Spotify | Apple Music | Amazon Music
Connect with San Holo:
SoundCloud | Facebook | Instagram | Twitter
Connect with Taska Black:
SoundCloud | Facebook | Instagram | Twitter