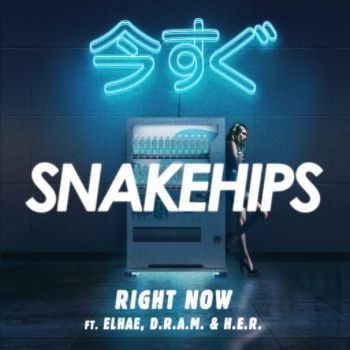 Snakehips ft. Elhae, D.R.A.M. & H.E.R. - Right Now
Following the success of 'Don't Leave' featuring Danish songstress MØ, acclaimed production duo Snakehips have returned with their latest offering 'Right Now'. Snakehips enlist an almighty cast featuring; US rapper D.R.A.M, best known for his breakthrough hit 'Broccoli ft Lil Yachty', Atlanta singer/songwriter ELHAE and mysterious vocalist H.E.R.
Well known for producing elegantly crafted, R&B masterpieces, Snakehips circle back to their original hip-hop roots. Filled with emotive rhythmic bars and sultry vocals, 'Right Now' tells a story about a troublesome and intoxicated relationship.
'Right Now' is sure to be a favourite amongst their dedicated fan-base who have seen them collaborate with some of the industries most infamous artists including; Anderson Paak, Chance The Rapper, Syd, Tory Lanez and Tinashe to name a few.
This release ties in with their extensive US tour and the beginning of a busy festival season. Heading to Ireland and Madrid first for two huge festival dates, the pair will then embark on their stateside tour with stops in Dover, Washington, Boston, Toronto, Las Vegas and Hawaii among others. On the 8thSeptember, the pair will return to London for their homecoming gig at the legendary O2 Forum Kentish Town. With their most recent headline show at KOKO selling out, Snakehips as always, have promised to go bigger and better this time round.
With fresh music on the horizon, Ollie and James continue to gain respect and recognition from some of the scenes most untouchable talents. Their ability to seek out in-demand collaborations sets them aside from their peers and keeps them at the top of their game.
Tour dates:
Sat 3rd June – Forbidden Fruit, Dublin, Ireland
Sat 4th June – True Music Festival, Madrid, Spain
Sun 18th June – Firefly Festival, Dover, USA
Thur 22nd June – Flash, Washington, USA
Friday 23rd June – Paradise Rock Club, Boston, USA
Sat 24th June – Velvet Underground, Toronto, Canada
Sun 25th June – Electric Forest, Michigan, USA
Wed 28th June -Mr Smalls Theatre, Pittsburg, USA
Thur 29th June – Grog Shop, Cleveland, USA
Fri 30th June – Electric Forest, Michigan, USA
Sat 1st July – Hard Rock Live, Las Vegas, USA
Sun 2nd July – The Republik, Honolulu, Hawaii