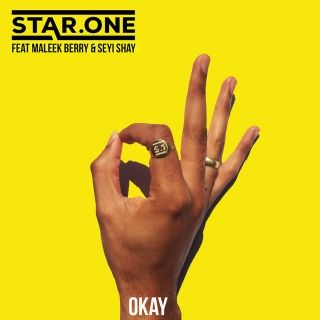 Star.One ft. Maleek Berry & Seyi Shay - Okay
UK 'new age soundsystem' duo, Star.One, present 'Okay' (featuring Maleek Berry & Seyi Shay) their debut single for 3 Beat, the label home of Sigma, High Contrast, Stylo G, and more.
The hybrid nature of British music in 2017 owes a lot to the 'DIY' nature and creativity of a newly thriving soundsystem culture in the UK. Right at the vanguard of this nascent resurgence are Star.One, championed by MistaJam, Target, 1Xtra, Noisey, Huw Stephens, Pigeons & Planes, Fact, Phil Taggart, and beyond. Brothers Joe and Adam describe themselves as a 'new age soundsystem', whereby the music they make, and the parties they throw, blur the lines between UK garage, grime, and bass music, while taking influences from the past 50 years of British black music. 'Okay' is a great example of this, merging old school UK garage production with the Nigerian stylings ofafrobeat stars Maleek Berry and Seyi Shay.
Star.One began 2017 with the 'Blocks EP'; a three track club-focused release and successor to their 2016 crossover hit, 'Original Badman' (feat. Takura and Assassin) which was A-listed at BBC Radio 1Xtra for the entire summer. These tracks, plus their celebrated'Elements' mixtape, join collaborations with the likes of P Money, D Double E, G FrSH, MC Creed and Doctor, who featured on their breakthrough track 'Never Give Up'. Armed with an impressive body of work, and now signed to 3 Beat, the pair are ready to make good on their early promise as they look towards their debut album.
Festival highlights for Star.One this summer include Glastonbury (RumShack and GarageGirls shows), Parklife, Strawberries and Creem, Kendall Calling, Boardmasters, Boomtown, Reading & Leeds, and Bestival.
Maleek Berry is the British-born Nigerian afrobeat singer-songwriter and producer currently blowing up internationally, with a huge following in the UK, US, and across Africa. To date, he's worked with prominent artists including Wizkid, Davido, Wale, Fuse ODG, Runtown and Iyanya.
Seyi Shay is Africa's female singer championing the afrobeat sound to the world. Born in Tottenham and now based in Nigeria, the success of her debut album 'Seyi or Shay' saw her ink a deal with Island Records and re-release the chart topping single 'Murda' on a global scale
Star.One 2017 Summer Festivals
‪June 10th: Parklife
June 17th: Strawberries and Creem
June 21-25th: Glastonbury (RumShack and GarageGirls stages)
July 29th: Kendal Calling
August 12th: Boardmasters
August 13th: Boomtown (Robotika)
August 25th: Leeds Festival
August 28th: Reading Festival
September 7-10: Bestival
STAR.ONE BIOGRAPHY
Soundsystem culture is in Star.One's blood. As children, Joe and Adam were first taken to Notting Hill Carnival by their father (a singer, producer, and DJ who in the 1970's, would lug his own system to parties across the capital). As they grew up, it was the garage tape packs and the infamous clash between Heartless Crew and Pay As You Go Cartel that had the biggest musical impact.
After leaving London for Kent in their teens, where Joe began making beats and working with various grime crews, the pair dug deeper into jungle and dancehall, making frequent rave trips to London, crashing on friends' floors or waiting for the first train home before school. At 19, Adam then moved to Manchester for university, and started DJing at an emerging club night called Murkage that would later morph into the 15-strong DJ collective and frequent Mike Skinner collaborators, Murkage Cartel.
The 'melting pot' nature of Manchester's bass and rave scenes had as big an effect on Star.One's musical style as their formative years down South. Together they started the city's BPM night, focusing on bringing underground artists such as Spyro, Durrty Goods, Boy Better Know and Lil Silva to Manchester.
https://www.facebook.com/StarOneUK
https://twitter.com/StarOneUK
https://www.instagram.com/staroneuk/
http://www.staroneuk.net/