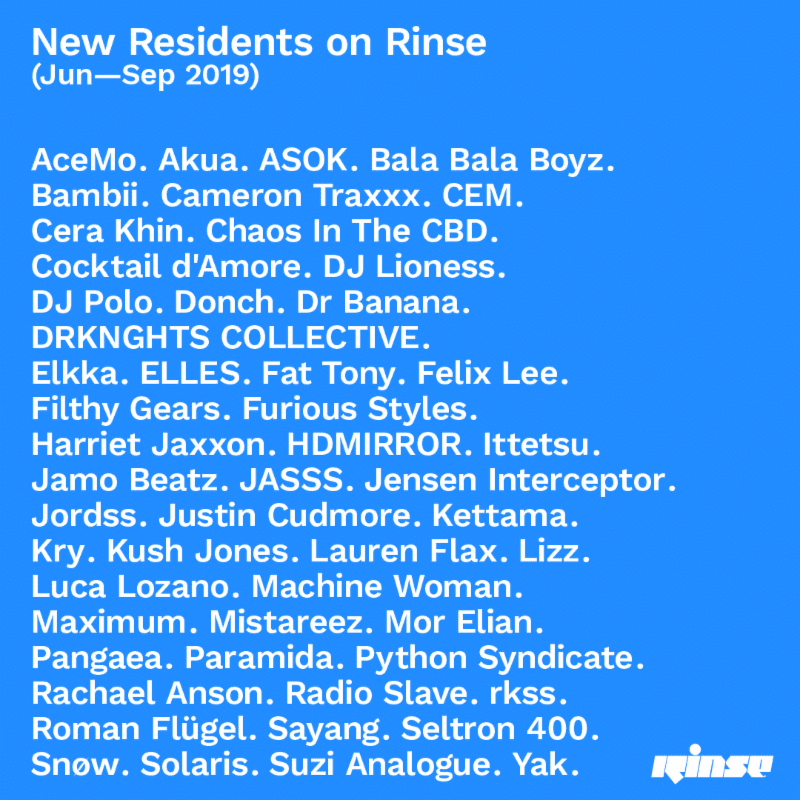 Rinse Fm – New Residents Announcement
Rinse FM has been a bastion of high end sonic output for the last quarter century. They have cemented their position as one of the taste-making institutions, not just in the UK but globally, with a consistent forward thinking approach to programming and illuminating the best up and coming talent. Never slowing with innovation, the one-time pirate station has used the traditional radio platform format to re-energise the scene in the UK and, beyond time and again, as they continue to showcase a plethora of musical genres that rub shoulders with one another under the loose umbrella term of electronic music.
Rinse are today announcing their latest wave of residents set to grace the storied studio. This time round, a total of 52 new artists are being added to the bill covering every sound from the depths of dusty house music to the wonkier side of techno, syncopated electro rubs up against ethereal ambient and upcoming Road Rap MC's mingle with high energy jungle dons. Drawing from the furthest corners of dance music, re-packaged in a unique east-London styling and then broadcast to the world.
Among the new additions, New Zealand via Peckham brother duo Chaos in the CBD are joined by London Native ELLES and Bunker Club NY's alumni Justin Cudmore. Luca Lozano's wonky rhythms meld with Machine Women's dance floor driven techno while Hessle Audio stalwart Pangaea returns with a stand alone show. Long serving Rekids boss Radio Slave and leftfield sector Roman Flügel sit next to newcomers CEM and Mor Elian, with Jensen Interceptor and ASOK bringing the punchier end of techno.
Bristol based label Dr Banana champions forgotten garage gems and Bala Bala Boyz unleash Congolese-tinged party jams, while Bristol don DJ Polo grasps the reins alongside the ever-euphoric Bambii and, by being BBK's riotous selector, Maximum will know exactly how to raise the energy levels with a black book packed full of exclusive special guests that few selectors could deliver.
Always ahead, Rinse FM remains the pinnacle of independent radio. From London to the world. Keep it Rinse.
|| Full List of New Residents ||
ACEMO, AKAU, ASOK, BAMBII, BALA BALA BOYZ, CEM, CERA KHIN, CHAOS IN THE CBD, COCKTAIL D'AMORE, DRKNGHTS COLLECTIVE, DJ LIONESS, DJ POLO, DONCH, DR BANANA, ELLES, ELKKA, FAT TONY, FELIX LEE, FILTHY GEARS, FURIOUS STYLES, HARRIET JACKSON, HDMIRROR,ITTETSU, JAMO BEATZ, JASSS, JENSEN INTERCEPTOR, JORDSS, JUSTIN CUDMORE, KETTAMA, KRY, KUSH JONES, LAUREN FLAX, LIZZ, LUCA LORENZO, MACHINE WOMEN, MAXIMUM, MISTAREEZ, MOR ELIAN, PARAMIDA, PANGAEA, PYTHON SYNDICATE, RACHEL ANSON, RADIO SLAVE, RKSS, ROMAN FLUGEL, SAYANG, SELTRON 400, SLIKBACK, SNØW, SOLARIS, SUZI ANALOGUE, YAK    
__________
About Rinse
Rinse is at the centre of a vast musical community. As genres, artists and scenes evolve and fragment, so Rinse remains locked to the pulse of the underground. Inspiring and nurturing people to create, the results speak for themselves.
Est.1994. Transmitting uncompromising and innovative music out of its East London heartland, it started life as a pirate radio station established by a group of friends wanting to share the music that inspired them
Keep it Rinse.  www.Rinse.FM