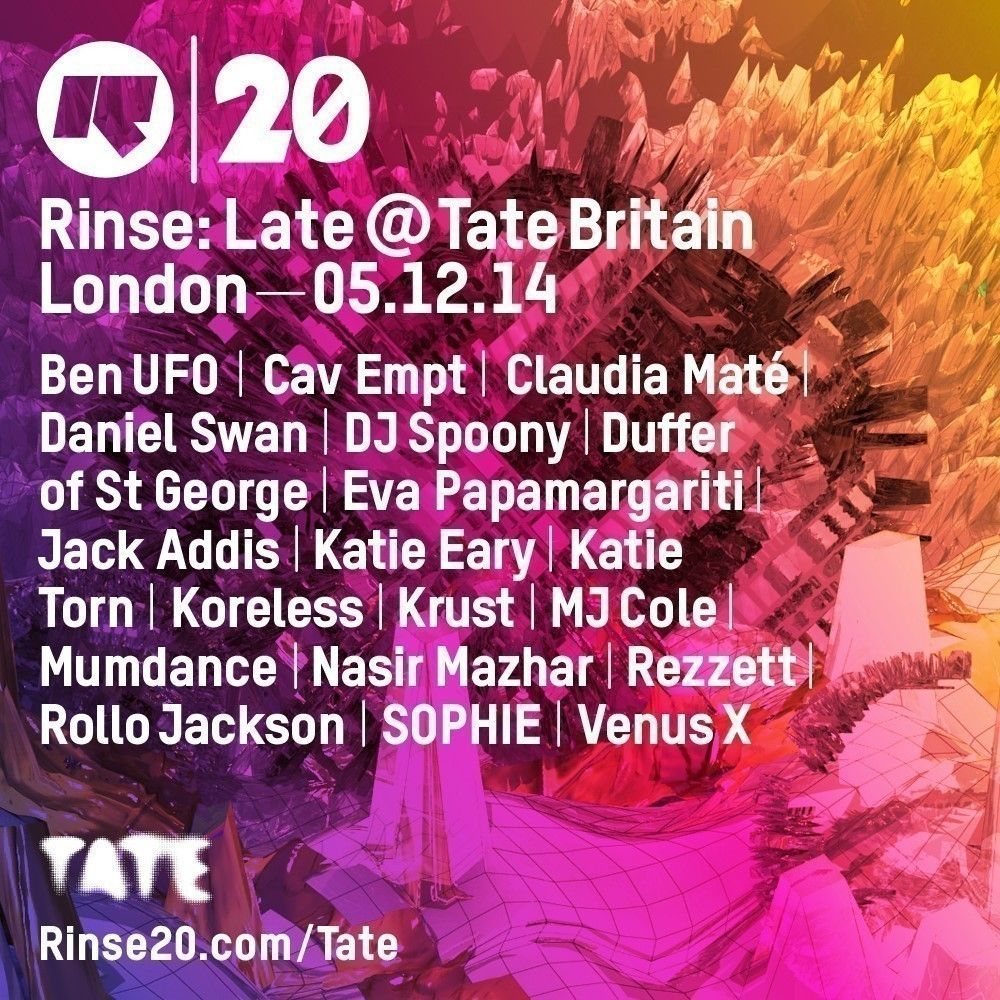 Rinse – Late @ Tate Britain
As part of the Late Tate series, Rinse takes over Tate Britain to celebrate 20 years of constant evolution. Telling the story of how the station, the cities and the nation of this small island have played a significant role in the shaping of youth culture throughout the globe.
Rinse will be curating a narrative of trends and cycles in music and fashion, brought to life via a selection of creators and commentators.
Rinse – Late @ Tate invites visitors to engage with the architects that pen tomorrow's blueprints, through various activities spread across spaces in the building.
Panel Discussion
A discussion around trends, cycles and bridges of influence between music and fashion.
London's hottest fashion designer Nasir Mazhar whose fans include Tinashe, Skepta and Vogue. Promoter, DJ, creator and foster mother to punks worldwide Venus X [GHE20G0THIK] whose CV is a rich tapestry of fighting for subculture. British designer Katie Eary famed for her arrestingly vivid collections as well as collaborating with Kanye West for his fashion line. DJ Spoony one of garage music's most iconic figures, member of the Dreem Teem, former Twice As Nice resident and the most recent addition to Rinse FM as a testament to garage's enduring influence. Ben UFO co-founder of Hessle Audio and one of the UKs vital tastemakers both internally and internationally. Rollo Jackson film maker, who has prolifically lent his aesthetic and vision to some of music's most exciting talent from Hot Chip to Danny Brown as well as making cult documentary Tape Crackers and more recently Slimzee's Going On Terrible.
Hosted by Dean Kissick [i-D, the Guardian]
Music Production Masterclasses
Masterclasses from 3 seminal British producers of the past 20 years, each breaking down one of their pivotal pieces and talking about the technology and cultural factors which shaped their approach to production.
Krust [Talkin Loud / Full Cycle / Reprezent] co founder of the prolific Full Cycle crew, Krust both produced and released some of the most vital records from the jungle scene and carved his own lane with releases like 'Coded Language'. MJ Cole a respected engineer in jungle graduating to one of the most revered producers of the garage era engineering tens of garage classics with quintessential releases 'Sincere' and 'Crazy Love'.
Mumdance the young buck of the masterclass devouring post millennium genres and regurgitating them reformed with a deft touch both showing nods to his influences, whilst creating new forms by bringing his own idiosyncrasies to production.
Fashion Installations
Cav Empt a new brand by the world famous Sk8thing, the graphic genius behind BAPE®, Billionaire Boys Club and ICECREAM and a host of other legendary Japanese brands. Sk8thing has teamed up with Toby Feltwell, who has been Nigo®s right hand man in Tokyo for the past 10 years, and Hishi the clothing designer behind Billionaire Boys Club and ICECREAM. All three assume the creative control of the brand and in their own words no one assumes the financial control. Debt from chaos.
A preview of their S/S15 collection with music provided by Rezzett http://www.thirdlooks.com/tag/cavempt/
Duffer of St George the premier of 'Style Brokers', the 1st and only documentary of the British clothing brand that, accidently on purpose, began UK street wear as we know it today. The film is by Stroma, daughter of Duffer designer, Marco Cairns. Storma started the project as a way for her to get to know her dad's younger days but soon discovered the wider spectrum of people involved in this culture, this spurred her on to create the 'Style Brokers'.
Digital Art
The building will be awash with art from 5 of the most vital artists from the digital realm.
Claudia Maté specialising in new media and online art Claudia's works encompass a variety of formats including programming, 3D, video, animated GIFs and sound. She is co-founder and curator at cloaque.org the site which is a collective of link minded creators and reads like a who's-who of the digital art world
Eva Papamargariti is a Greek architect (degree in Architecture and Engineering) and new media artist. Currently studying for her Master's Degree in Visual Communication Design, at Royal College of Art, London. Eva has been working and collaborating with architects, artists and design groups since 2008. Her projects focus on time-based media (digital installations, video, gif animations), architecture and graphic design and have so far revolved around themes of motion, destruction. http://vimeo.com/evapapamargariti
Jack Addis
Creator of 2nd life pieces including 'Shadow Boxing' which is like watching an EA sports character be created whilst mescaline courses through your veins. Shadow Boxing
www.jackaddis.com
Katie Torn
A digital deity spawning worlds which human eyes may interpret as dystopian metropolises but could just as likely be lands of love and luxury depending on your perspective. Ideas distilled into polygon characters, like custom-made 2nd life creatures trapped in short story loops. Katie creates all this and more with pieces such as Geo Crash.
www.katietorn.com
Daniel Swan
Perhaps best known for his luxury aesthetic within the digital world. Daniel has entered the pop culture conscious via video work with the likes of Rinse, PC Music and Night Slugs. His work scoops up iconography that litters popular culture throughout the ages and recycles them to create a narrative where time is no longer a barrier to his vision.
Shaun Bloodworth
The Sheffield based photographer is best known capturing the majority of artists of note to this generations electronic music scene. Stark, industrial and unapologetically British. Shaun has been the chief photographer at Rinse since 2003.
Live Music
SOPHIE currently shifting the tectonic plates of pop with the ethics of Japanese kawaii, fizzing up dance floors with records like Lemonade and Bipp and bringing sonics oft aligned with J-Pop and K-Pop to a space dominated by shades of beige.
Koreless left Bangor to study Naval Architecture in Glasgow and you can hear the disciplined restraint and intricacy in his productions. Eschewing the maximalist stylings of the cities famous sounds for minimal and altogether more sensitive records. Brought to the attention of the nation via James Blake and Benji B, the Jacques Greene and Sampha collaborator is currently touring his live show in support of Caribou.———
Rinse – Late @ Tate is the last in a series of events celebrating the brands 20th birthday. Celebrations which kicked off on August Bank Holiday with Rinse's inaugural year at Notting Hill Carnival. This 20th year has been a coming of age for the brand launching Futuristic Frequencies, a collaboration with Billionaire Boys Club and achieving number 1 album and single records with Katy B and Route 94. Now celebrations draw to a close, plans are already afoot for next year so you can be sure 2015 is not business as usual.