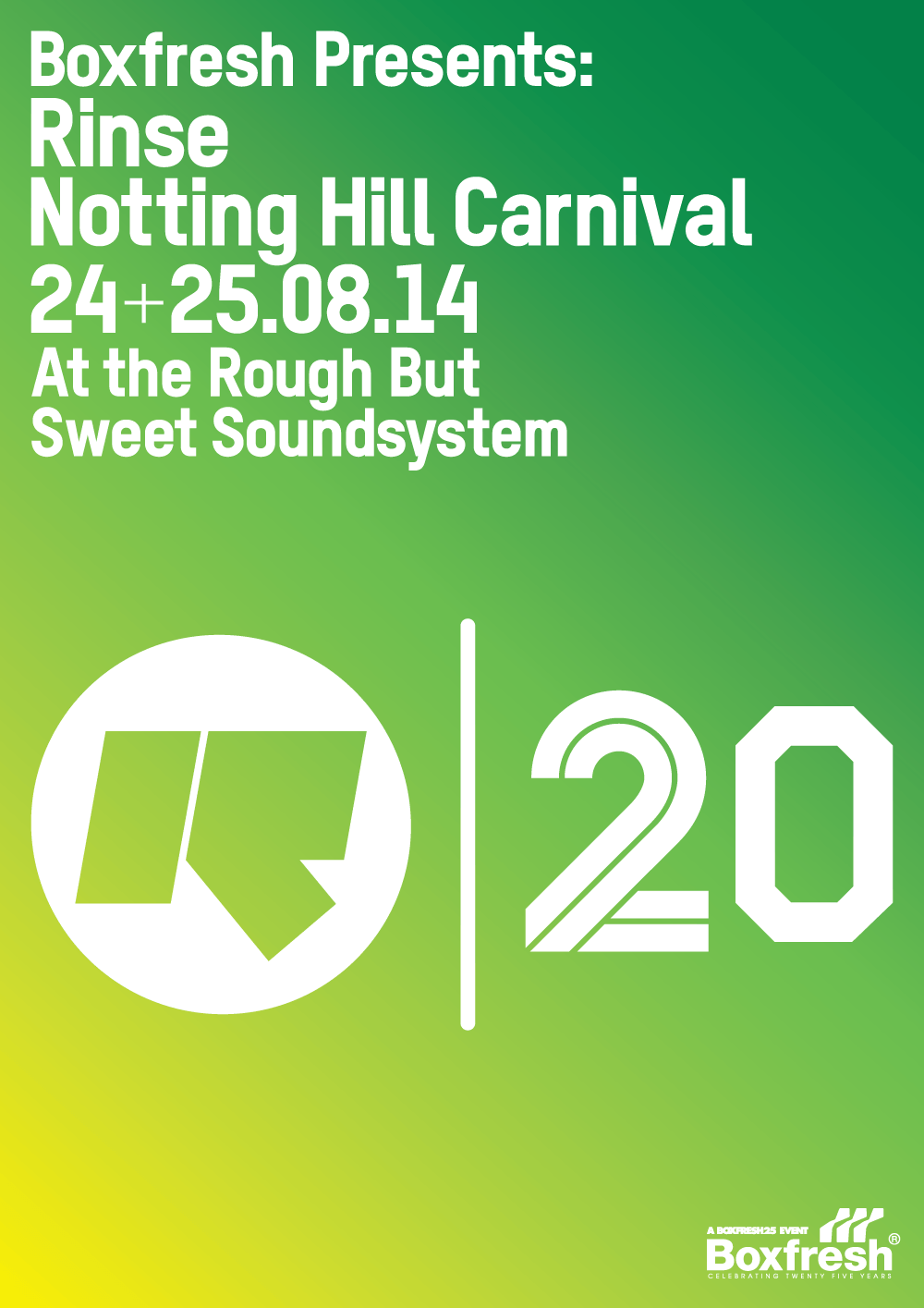 RINSE @ NOTTING HILL CARNIVAL
Rinse 20 – A celebration of Rinse's present and a bold look into the future
A passion to share music which inspired them, brought a small set of friends together on August bank holiday of 1994. Ever since that weekend, Rinse has been transmitting uncompromising and innovative music out of its East London heartland.
Starting life as a pirate radio station, the compulsive need to share what inspires without filter, Rinse has grown to become this generation's greatest British influencer of youth culture throughout the globe.
This year, on the anniversary weekend of its first transmission, Rinse in collaboration with iconic London streetwear brand Boxfresh, host a stage for the first time, at the legendary Notting Hill Carnival on the Rough But Sweet soundsystem. Being a streetwear brand whose history is synonymous with dance culture, Boxfresh are especially proud to partner with Rinse for this seminal anniversary.
This event will be live on Rinse and is the launch to a programme of birthday celebrations that run until December, culminating in Rinse – Late at Tate Britain.
Double celebrations at carnival as Boxfresh themselves are this year celebrating their 25th anniversary. The London born streetwear brand is celebrating turning 25 in true Boxfresh style by holding 25 unique events in and around the UK and Europe with the help of a diverse range of curators and contributors, across the spectrum of fashion, music, art, and street culture.
Carnival Date
Sun 24th & Mon 25th August
Carnival Lineup
All About She
Billon
Bok Bok
Butterz
Jess Glynne
Josey Rebelle
Metalheadz
Miss Dynamite
Newham Generals
P Money
Sasha Keable
Sinead Hartnett
Sir Spyro
Uncle Dugs
Vic Mensa
Yasmin
Youngsta
**More artists announcements the week of carnival
Carnival Media
Live on 106.8 FM / http://www.rinse.fm
Boxfresh
Innovating since 1989, Boxfresh originates from humble market stall beginnings; it is an original bastion of British streetwear and a brand that inspired an entire generation of forward thinking style enthusiasts. Embodying the unpredictable nature of London youth culture and creativity, Boxfresh is the uniform for the devoted design appreciator and street culture athlete. Boxfresh are London street style innovators. A credible voice for today's youth.