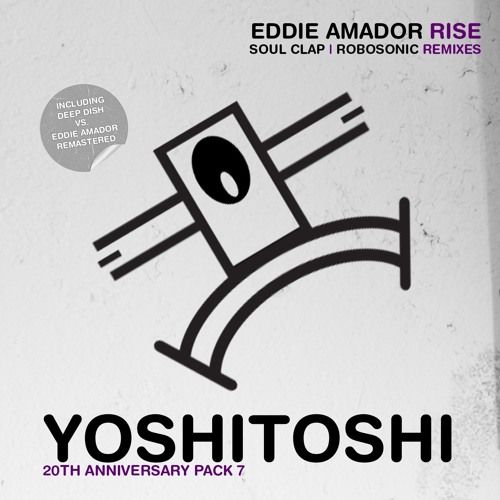 Eddie Amador - Soul Clap / Robosonic Mixes - Rise
"Rise to the top. I've got to make it to the top." The empowering hook that shook up dance floors in 1999 is back, and it couldn't come at a better time. Featuring mixes from house heavyweights Soul Clap, Robosonic, and Deep Dish, this package is likely our most prodigious yet, as we continue going down the memory lane with our Yoshitoshi 20th anniversary packages.
Soul Clap's Sounds of Life Remix feels like church on a Saturday night. Its big organs and uplifting energy carry the original preacher vocal like a seasoned gospel group, while the drums – reminiscent of early Masters At Work, keep the groove going nicely. As the nearly-ten minute arrangement unwinds, Soul Clap's expertise as purveyors of modern funk becomes apparent. It's deep, its soulful, its funky. Its vintage Soul Clap.
In other news, Robosonic are back with their third Yoshi classic remix! The boys flex their funk muscle with a mix that is equal parts classic house and modern banger, and sports one of their best bass lines to date. The original vocal has been perfectly interlaced with this track's propulsive beat.
Finally, the mix that meant everything: The original Deep Dish vs. Eddie Amador. This mix tore down walls 15 years ago with an infectious vocal hook and relentless bassline that has stood the test of time, and now comes to you remastered.
We're excited to unleash this package just in time for BPM! Rise On Up to the top!