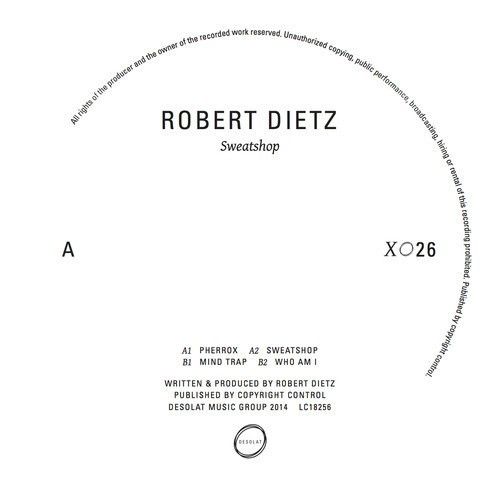 ROBERT DIETZ – SWEATSHOP EP
Robert Dietz has been one of the most consistent producers around in recent years, with releases on a diverse assortment of labels including Cecille, Cadenza, Running Back and Saved Records. While Robert's 'Your So Hood' track featured on the Desolat X Sampler back in March, then this will be his long-awaited debut solo release on Desolat, and as one would expect from such a talented producer it is a striking EP.
'Pherrox' kicks the EP off in startling style. The track has a brooding tone and trudges along, characterised by a sharp beat and a dark distorted vocal, with computerised stabs piercing the soundscape. 'Sweatshop' follows in a different vein and builds, with punchy hi-hats, acid bass, spoken word samples, a panning siren combining brilliantly and resulting in a medley of hedonistic vibes.
Next up is 'Who Am I', which takes a techier-tangent and sees an off-kilter beat, another gloriously manipulated vocal, and percussion spirals effortlessly merge on this mechanical monster. Rounding things up is 'Mind Trap', which is another robotic mutation featuring a disfigured vocal, electronic squelches, and swirling pulses of bass.
On the 'Sweatshop EP' it is clear that Robert has lived up to his billing as one of the most consistently brilliant producers over the last few years. On the 'Sweatshop EP' it is evident that Robert Dietz has drawn upon all his years of experience to craft an accomplished debut record for Desolat full of distorted textures, striking details and mechanical sounds.