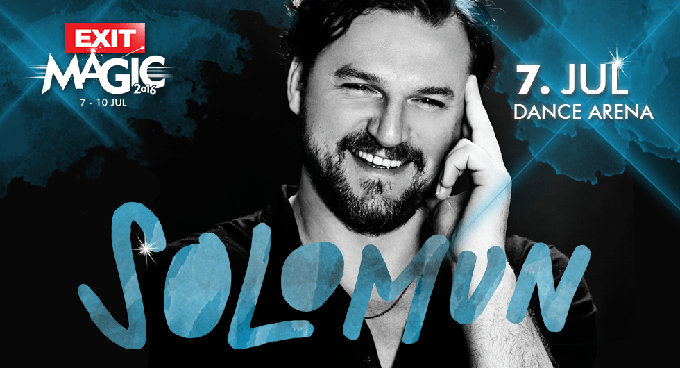 Robin Shulz, Nicky Romero, Solomun and Concrete DJs join EXIT Festival Line Up
Saturday's at the Dance Arena have always been one of Exit Festival's defining monuments, a time when a full-blown swarm of cheerful visitors go home after the sun had long ago reached an impressive altitude. This year will be no exception as the biggest dancefloor in this corner of the world welcomes some of the hottest electronic acts.
German superstar Robin Schulz brings some of the biggest dancefloor hits of the decade which earned him high ranking chart placement, performances at world's leading festivals as well as clubs all around the world. This year saw his latest album "Sugar", that includes collaborations with a large number of prominent names, e.g. Moby, J.U.D.G.E, Ilsey, soFLY, Graham Candy, Akon, DJ Moguai – just to name a few, as well as a Grammy nomination. Schulz will be performing at Exit's Dance Arena on Saturday, 9 July. He will be joined on the same evening by David Guetta's protégé, Dutch DJ, producer and Protocol recording label owner, Nicky Romero, who has been named one of the world's best DJs by DJ Mag! He has won an MTV EMA award for the Best Dutch Act and he is one of Ibiza's biggest clubs resident, headliner to some of the leading world festivals, including Tomorrowland and Ultra.
Sam Feldt has reached his peak with the hit "Show Me Love" that ranked high on most of the European charts in the last few years. Feldt continues his success frenzy with hits such as "Midnight Hearts", at the same time sharing the stage with some of the biggest DJ names: Kygo, Robin Schulz, Thomas Jack, Alle Farben, Kölsch. Hadrien Federiconi, also known as Federcompletes the list of deep house giants for this year's Dance Arena. The winner of "Best New French DJ" award at NRJ DJ Awards had his breakthrough in the world of deep house with his incredible remix of Rodriguez's song "Sixto", after which he released "Goodbye" that hit number one on iTunes charts in all across Europe, including almost all radio stations in Serbia and the Balkan region.
EXIT MAGIC 2016: Saturday Night's Fever: https://youtu.be/qK3P5hVJHsU
House music royalty and one of the leaders of today's electronic scene, Solomun, returns to Exit Dance Arena on Thursday, 7 July with a much bigger status on the world scene compared to his debut at Exit in 2010. He was named Best DJ and Producer of the Year at DJ Awards, while he is currently working on his theme night "Solomun +1". One of the unofficial kings of Ibiza has been standing shoulder to shoulder with the likes of Richie Hawtin (Enter) and Marco Carola (MusicOn), and is also the proud owner of his "Diynamic" label, as well as the well-respected alternative label "2DIY4".
No Sleep Novi Sad, the second biggest electronic music stage of Exit Festival will be presenting its new program concept with some of the biggest world clubs and labels next summer during four festival nights behind the famous tunnel leading away from Dance Arena. The first club to confirm their presence at Exit Festival is the Paris based boat party Concrete, who will host their non-stop party on Saturday, 9 July. The show will be headlined by techno wunderkind, the star of a new generation Tommy Four Seven, followed by the leading Concrete residents and current leaders of the Paris techno scene, Antigone and Francois X, as well as one of the rising stars Shlømo who will bring his intense live performance to the No Sleep Stage!
Tommy Four Seven is a British producer that moved to Berlin in 2008, and in a short while established himself as one of the leading representatives of the ultimate and very competitive techno scene. Antigone is considered the leader of the French avant-garde techno scene that is once again on the rise. "Forbidden Work", released for the Construct Re-Form label, together with "Menace of the Species", and "Astral Traveller" have attracted the attention of some of the most important names, securing him a residency at Concrete. Francois X is a world-renowned DJ and producer, and one of the key factors of the French electronic scene. Francois X has been the leading resident of Concrete, alongside having a regular spot at Berghain and Fabric. His "Paris Boiler Room" mix is considered one of the best mixes from the venue. Shlømo is the youngest Concrete resident that will be performing on Saturday at the NSNS Stage. He founded Taapion Records in 2013, which featured names such as Birth of Frequency, Roman Poncet and Francois X. He became a part of the Concrete collective not very long ago, on 25 October, on the club's 4th birthday; a party which is still being talked about after going on for three days and nights non-stop.
Concrete Paris at Exit 2016: https://youtu.be/GYdGbEL6U44
Performances at the magical Exit Adventure 2016, including Exit (7-10th July 2016) and Sea Dance Festival (14-16th July 2016) have been confirmed by the currently biggest hip-hop star in the world, Wiz Khalifa, indie rock sensation Bastille, one of the most wanted European rappers Stormzy, Belgian hitmaker Lost Frequencies, the cult-status music collective Dub Pistols, as well as the most wanted Dutch band Kensington. They are followed by an impressive list of bass performers from Petrovaradin to Jaz Beach, the first ones among them being the fathers of their genre, drum'n'bass champions DJ Hype and Andy C, together with some of the biggest dubstep stars Modestep and Zomboy. They will be joined by the most prominent names of this generation, Wilkinson, Ivy Lab and Sub Zero, whereas a special slot in the Main Stage program is reserved for the amazing Ms. Dynamite. The last Exit Adventure wave of artists for 2015 has been announced, with new names awaiting just after the upcoming holiday season.
The special Xmas offer – 4=5: Buy 4 tickets for EXIT and you get 1 FOR FREE!
During the huge Xmas offer, tickets for Exit Adventure are available at the special Promo price of £79, which is a 25% discount from the final price in July! Exit Adventure ticket consists of an Exit Festival ticket as well as a Sea Dance Festival ticket. A very limited number of tickets are available online here: http://www.exitfest.org/en/tickets
Also, Exit Adventure packages, consisting of the festival ticket, accommodation and airport transfer are available at Exittrip.org.