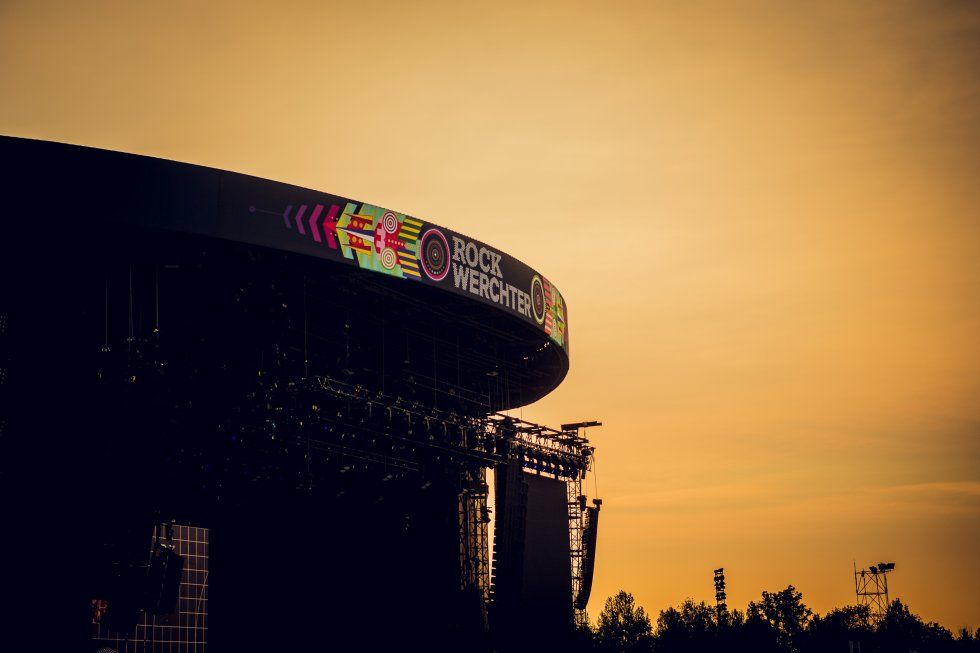 Rock Werchter 2018: The Cure, Florence + The Machine, P!NK, Tool, Muse, Mumford & Sons + many more
Belgium's biggest music festival is back with a bang! Rock Werchter have set the highest of standards in booking stellar line-ups, and they have lived up to expectations yet again with a collection of world class headline acts; Florence + The Machine, Muse, The Cure,Mumford and Sons, P!NK, and Tool. The four-day multi-award-winning event covers an eclectic range of genres, from pop and rock's biggest stars, to the best and brightest newcomers.
Rock Werchter kicks off with one of the biggest names in pop music. P!NK's illustrious career includes the sales of over 57 million albums, 75 million singles, 15 top 10 songs on the Billboard 100, four number ones, and three Grammy awards. Her latest album, 'Beautiful Trauma', is certified platinum and instantly shot to #1 in 11 countries. The Beautiful Trauma World Tour has blown fans away across America, Australia and New Zealand in 2018, with the highly esteemed music magazine Variety describing it as the most "holy f***ing s*** act of physicality ever seen as part of a pop show". This will beP!NK's first performance at Rock Werchter since 2010, and with her incredible new stage show, she is guaranteed to dazzle the crowds once again.
P!NK is joined on Thursday by: German techno DJ, Paul Kalkbrenner; Australian singer-songwriter, Vance Joy; and bluesy pop-rockers, Bang Bang Romeo.
On Friday, the legendary 80's gothic rock giants – The Cure – return to Rock Werchter for another incredible headline performance. With more than 40 singles and 13 studio albums in their back catalogue, their live sets are a sprawling mass of hits and rarities that delight casual fans and super fans alike. Robert Smith and his band will bring their musical legacy to main stage for their Friday night headline set, which is sure to be one of the must-see performances of the entire weekend. They are joined by the Grammy award-winning metal band, Tool.
Their progressive and psychedelic form of alternative metal has made them one of the most influential bands in all of heavy rock. Tool bring their distinctive art style directly into their live shows with elaborate stage set up's and visual effects that will be sure to wow the Werchter crowds. Also performing on Friday are: the British metal behemoths, Bring Me The Horizon; musical royalty, Kylie; pop sensations, Years & Years; and the acclaimed alt-rockers, Nothing But Thieves.
The world's move beloved folk-rock band, Mumford & Sons, will be celebrating their ten-year existence with a new album, 'Delta', and a Saturday night headline slot at Rock Werchter. The British band sold more than three million copies of their debut album, 'Sigh No More', in the UK and US alone, and their Grammy award winning follow-up, 'Babel', was the fasting selling record of 2012. Their hugely successful last album, 'Wilder Mind', saw a more powerful electronic sound from the bluegrass outfit, but their new release is tipped to see a return of the banjos and acoustic sound that they are so well-known for. Their energetic live performances and array of anthemic choruses have earned them the title of one of the biggest and best festival bands around today. Expect a moment to remember on Saturday night in Werchter.
Joining them at the top of the bill is South London's Florence + The Machine, who will grace the Rock Werchter stage barefoot once again following her worldwide High as Hope tour. The indie pop band, led by the enigmatic Florence Welch, have ascended to true musical prominence in recent years. Their last two albums have solidified them as one of the most mesmerising and magical acts on the planet, with Welch's combination of heart-wrenching poetry and angelic stage presence. Saturday will also see performances by the innovative French dance outfit, The Blaze, and British rock icon, Miles Kane.
Finally, Rock Werchter regulars, Muse, are back to set the main stage alight on Sunday with phenomenal new music from their latest album, 'Simulation Theory'. Widely renowned as one of the best live bands on earth, Muse put on a show that's unlike anything else you have ever seen. Their interplanetary sci-fi slant on alternative rock is as out of this world as their talents. Since their formation in 1994, Matt Bellamy, Dominic Howard and Chris Wolstenholme have cemented their claim for being some of the greatest ever instrumentalists in their chosen fields, and when playing together as a trio, they're a force to be reckoned with. Also gracing the Rock Werchter stage on Sunday is the promising indie-rap phenomenon, Yungblud.
Rock Werchter – Belgium's greatest summer music festival – takes place from Thursday 27th June to Sunday 30th June 2019 at the Festivalpark in Werchter.
ACTS ANNOUNCED TO DATE (A-Z)
Bang Bang Romeo, The Blaze, Bring Me The Horizon, The Cure, Florence + the Machine, Kylie, Miles Kane, Mumford & Sons, Rock Werchter, Muse, Nothing But Thieves, P!NK, Paul Kalkbrenner, Tool, Vance Joy, Years & Years, Yungblud
TICKET INFORMATION
Tickets on sale now and are available from:
www.ticketmaster.be and www.proximusgoformusic.be