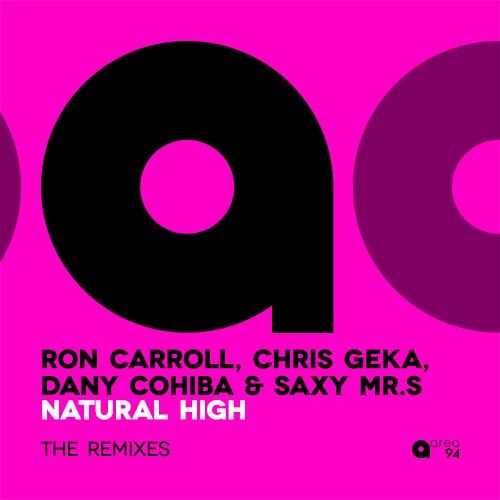 ron Carrol, Chris Geka, Dany Cohiba & Saxy Mr.S – Natural High THE REMIXES
Ladies and gentlemen, who gives more? Not one, not two, or even three, four artists are collaborating in this new super release on Area94.
But that´s not all. Not one, not two, three are the remixes that we have included in the pack.
We´re going to start to introduce you the guys who have signed the release. Ron Carroll; dj, singer, songwriter, producer, more than… oh my Gosh, we have lost count of his productions. About Chris Geka is a French producer with a extensive experience. Dany Cohiba, what can we say from him, he´s part of our staff, we love his stuff. And, from Holland, Saxy Mr S on the saxophone. You can draw your own conclusions listening to this pack, tons of talent in this our new reference.
All this, we must add the remixers: Raffael De Luca from USA, part of our team from some years, H&H Soulsurvivors from UK and for the first time with us the Italian duo Alaia & Gallo. Everybody gave their personal touch in each of the three remixes, the aren't enough words to describe them.
That´s it, now you have in your hands a super production, a very important international collaboration with artists of top level.
Nothing to add, just choose your fav to enjoy with it and do enjoy who dance with you with this "Natural High".
NATURAL HIGH – THE REMIXES out now on Beatport (Exclusive).
Check it out here: https://pro.beatport.com/release/natural-high-the-remixes/1441697
Previews
Soundcloud: https://soundcloud.com/area94records/ron-carroll-chris-geka-dany-cohiba-saxy-mrs-natural-high-the-remixes
Youtube: https://www.youtube.com/watch?v=QxDMlfgjOAw&list=UU5NGycdyPfcN3nUkWEHTLww
Follow AREA 94 records:
Twitter: https://twitter.com/Area94Records
Facebook: https://www.facebook.com/area94records
Soundcloud: https://soundcloud.com/area94records
Youtube: https://youtube.com/area94records
#followarea94