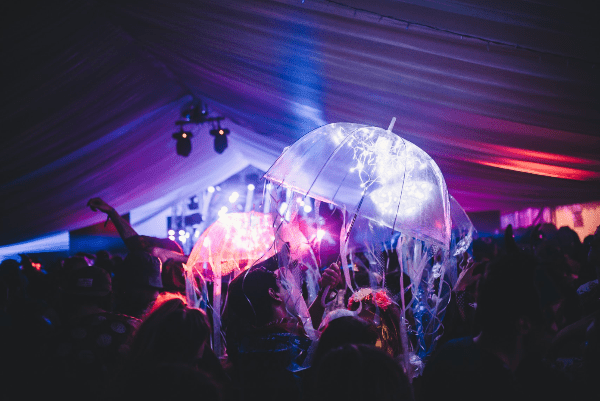 Roni Size completes The Masked Ball's stella line up
Drum and bass mainstay and Mercury Prize-winning artist and DJ Roni Size is the final piece of the artistic puzzle added to The Masked Ball Festival in Cornwall.
The pioneering producer and DJ, who came to prominence in the late 90's and helped bring drum and bass to the masses with his work on the album 'New Forms'. Now he headlines festivals across the globe with The Masked Ball booking him for the secret stage AKA The Lazer Shack stage. Set on a cliff top in Porthleven overlooking Mount's Bay, the stage features a state-of-the-art laser rig, that can be seen for miles around from the festival site.
Taking place from from 3-5 May 2019, The Masked Ball now enters its 12th year and returns with another party for the ages. The intimate 3000 capacity themed electronic festival is populated by dressed-to-excess "ballers" and takes places just outside the Cornish fishing village of Porthleven.
Other acts performing include Psychemagik, Body Hammer, Dave Harvey, Felix Dickinson, Telephones, Francis Inferno Orchestra, DJ Format, Optimo and more with Surf Lessons, stand up paddleboarding, Hot tub disco and Yoga being just being a number of extras that make this event extra special.
Facebook
Instagram
Further details:
Images: HERE
Press tickets: HERE
www.maskedball.net
Event times and location:
Friday 3rd – Monday 6th May 2019
Porthleven, Cornwall
Back 2 Back sets:
Johnnie Wilkes & Keith McIvor's legendary Optimo
Dave Harvey & Felix Dickinson
Francis Inferno Orchestra vs Telephones
Pete Herbert and Dicky Trisco's legendary Sunday session b2b
Line up (A-Z):
(Headliners in bold)
Admin
Aeon Seven
Alex Conrad
Alfresco Disco
Algorythm
Austin Ato
Bawrut
Boca 45
Body Hammer
Crawford
Dad Bod Boogie
Dave Harvey
Devin
Dicky Trisco
DJ Format
Ellie Stokes
Ere Wax
Felix Dickinson
Florence Bird
Francis Inferno Orchestra
French Kiss
Func Musik
Jac the Disco
Jack Be Nimble
John Gomez
Kieran Holden & Disco Phil
King Louis & Dance Armstrong
KVNG
Lightworks
Loose People
MC Mysdiggi
Nigel Pengelly
Not An Animal
Ollie Stratton
Opitmo
Pat McGrath
Pete Herbert
Pete Isaac
Psychemagik
Postman Joe
Powder
Reefe Murphy (KiWi)
Roni Size
Ryan Goldsworthy
Scott Fraser
Soulworks
Studio 89
Teak
Tech Collectors
Telephones
The General
Viscera