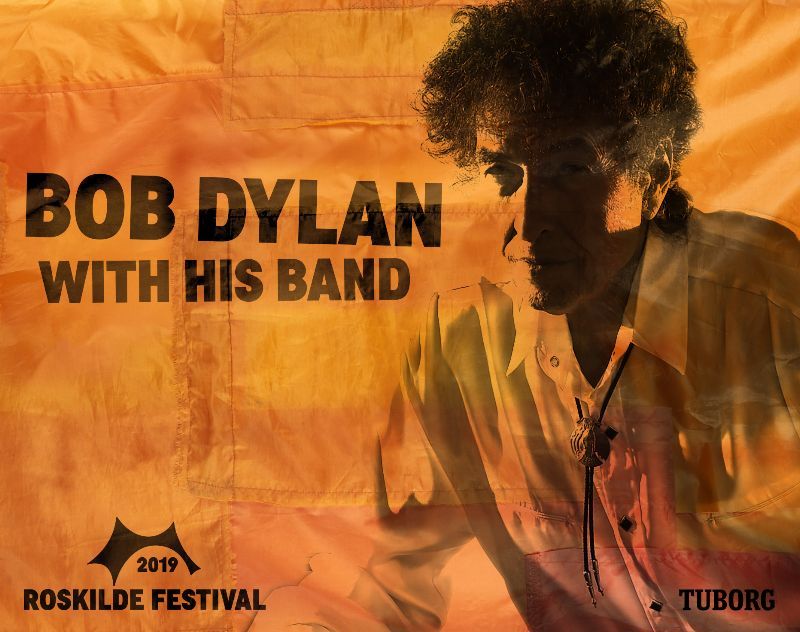 Roskilde Festival adds Bob Dylan, Rosalía and many more acts for 2019
Bob Dylan is back at the Danish non-profit festival. Other new acts include Catalan star Rosalía, Led Zeppelin icon Robert Plant, Phil Anselmo playing Pantera with The Illegals, Underworld, Lemaitre and many more. A total of 32 artists have been added to the programme.
More than 180 music acts will play Roskilde Festival 2019. The Cure, Cardi B, Robyn, Travis Scott, Christine and the Queens, Jorja Smith, Tears for Fears and many more have already been announced, with a further 32 new artists from all over the world joining the line-up today.
Ladies and gentlemen, Bob Dylan
The master, the icon, the legend of legends. Bob Dylan finally returns to Roskilde Festival for the first time since 2006.
Bob Dylan initially reinterpreted folk music and became the new face of protest music in America by giving a voice to those who were neglected and ignored. The courageous songwriter famously "went electric" in 1965 and continued to evolve, finding new ways to express himself both lyrically, artistically and politically.
Bob Dylan remains one of the most influential songwriters of all time. He received the Nobel Prize for Literature in 2016 for his massive contribution to popular culture and his powerful use of lyrics as an artform in itself. Classics such as Like a Rolling Stone, The Times They Are A-Changin', Boots of Spanish Leather, Blowin' in the Wind, A Hard Rain's A-Gonna Fall, Subterranean Homesick Blues, Mr. Tambourine Man, Girl from the North Country, Lay Lady Lay, Knockin' On Heaven's Door and countless others serve as proof of exactly that.
Bob Dylan With His Band will play the largest festival in Northern Europe on Wednesday 3 July.
From flamenco to Persian pop, from Greenland to Jamaica
Pop music is changing. New genre hybrids are conquering the charts, and Catalan star Rosalía is the ultimate symbol of this. 25-year-old Rosalía combines traditional flamenco with modern pop and R&B. Her lyrics are in Spanish, but her fans are global, earning her numerous spots on year-end lists all over the world for her 2018 album El Mal Querer.
Rosalía has worked with James Blake and Pharrell, and she may very well enjoy her major breakthrough in 2019. The uncompromising talent is there, and the world seems ready for something new.
From Greenland to Jamaica, from Israel to Belize, the new additions to Roskilde Festival span five continents with artists from 16 different countries. Nanook is one of the biggest bands in Greenland, Liraz updates the golden era of Iranian pop music, Tássia Reis from Brazil creates unique rap jazz and The Garifuna Collective is the first band from Belize ever to play Roskilde Festival.
Head of programme, Anders Wahrén, says of the new additions:
"Few artists have had such a profound influence on music and popular culture as Bob Dylan. To many of our young festival-goers, this will be their first chance to witness an artist who has changed the course of music as much as he has."
"It's crucial for us to present a line-up with great music from all over the world. Rosalía is a perfect example of a popstar who makes global pop music in an age when genre and language barriers mean less, and the way she effortlessly mixes classic flamenco with pop and hip-hop is testament to her brilliance and the curiosity of millions of listeners out there."
The legacy of Led Zeppelin and Pantera
Robert Plant has played a significant part in rock music as we know it. He formed Led Zeppelin more than 50 years ago and started an adventurous solo career in 1982 that has spawned 11 albums, including the acclaimed latest effort Carry Fire from 2017. He will bring his band The Sensational Space Shifters to Roskilde with an eclectic mix of world music, psychedelic folk and American blues – without forgetting a few Led Zeppelin classics.
Philip H. Anselmo & The Illegals will bring a show of exclusively classic Pantera material. Australian tongue twisters Rolling Blackouts Coastal Fever offer sunshine and jangling indie rock whereas Canadian collective Crack Cloud delivers danceable post-punk with a kraut influence. Things are bound to get loud with bass-heavy noise rockers Whores.
Fans of electronic music will have plenty to look forward to with Underworld, Amnesia Scanner from Finland, Norwegian sensation Lemaitre, prolific producer Throwing Snow and Danish ambient electronic mastermind Croatian Amor.
Art distorting the senses
The four additions to the Arts & Activism programme are all about sensing and dreams. They were recently exhibited at the biennial in Riga. Together, they will constitute a sensorium at Roskilde Festival, focusing on smell, taste, touch and sound.
Artists such as Berlin-based Viron Erol Vert and Marisa Benjamim from Portugal will make sure the festival-goers can't afford to miss sensory experiences such as a taste laboratory on wheels, an interactive museum of smells, a golden amber chamber and a waterbed that includes underwater reproduction.
83 music acts have now been announced for Roskilde Festival 2019, including The Cure, Cardi B, Robyn, Travis Scott, Christine and the Queens, Jorja Smith and Tears for Fears. A total of 180 acts will play across 8 stages at Roskilde 2019, which lasts for eight days between Saturday 29 June to Saturday 6 July. Find out more and book tickets at Roskilde-festival.dk.
NEWLY ANNOUNCED ACTS (A-Z)
BOB DYLAN WITH HIS BAND (US)
ROBERT PLANT AND THE SENSATIONAL SPACE SHIFTERS
(UK)
ROSALÍA (ES)
UNDERWORLD (UK)
AMNESIA SCANNER (FI)
CRACK CLOUD (CA)
CROATIAN AMOR (DK)
THE GARIFUNA COLLECTIVE (BZ)
KOFFEE AND THE RAGGAMUFFINS BAND (JM)
LEMAITRE (NO)
LIRAZ (IR)
NANOOK (GR)
PHILIP H. ANSELMO & THE ILLEGALS (US)
ROLLING BLACKOUTS COASTAL FEVER (AU)
TÁSSIA REIS (BR)
THROWING SNOW (UK)
WHORES. (US)
Nordic talent programme
EA KAYA (DK)
ELBA (DK)
FUNERAL FUTURE (DK)
HJALTE ROSS (DK)
JOSIAH KONDER (DK)
KOGEKUNST (DK)
NATKAT (DK)
REBECCA LOU (DK)
SCHACKE (DK)
SØN (DK)
XENOBLIGHT (DK)
Arts & Activism programme
ANNE DUK HEE JORDAN (KR)
MARISA BENJAMIM (PT)
SISSEL TOLAAS (NO)
VIRON EROL VERT (DE)
PREVIOUSLY ANNOUNCED ACTS (A-Z)
ALEXANDER TILLEGREEN (DK)
ALMA (FI)
ASSUME VIVID ASTRO FOCUS (BR)
BARSELONA (DK)
BIBA FIBIGER (DK)
BLACK MIDI (UK)
BLAWAN (UK)
BRENN. (NO)
BRING ME THE HORIZON (UK)
BROCKHAMPTON (US)
CARDI B (US)
CARPENTER BRUT (FR)
CHRISTINE AND THE QUEENS (FR)
CONVERGE (US)
CYPRESS HILL (US)
DENZEL CURRY (US)
FATOUMATA DIAWARA (ML)
FLOHIO (UK)
FULL OF HELL & THE BODY (US) DOUBLE SHOW
GAYE SU AKYOL (TR)
GHETTO KUMBÉ (CO)
GIRLPOOL (US)
HEAVE BLOOD & DIE (NO)
HUGO HELMIG (DK)
IDA SØNDER THORHAUGE (DK)
JOEY PURP (US)
JON HOPKINS (UK)
JORJA SMITH (UK)
JPEGMAFIA (US)
JULIA HOLTER (US)
JULIEN BAKER (US)
JUNGLE (UK)
KARKHANA (EG)
KHRUANGBIN (US)
KONSTRUKT (TR)
LUCY DACUS (US)
MAURICE LOUCA ENSEMBLE (EG)
MØ (DK)
NAKHANE (ZA)
NENEH CHERRY (SE)
NICOLA CRUZ (EC)
OCTAVIAN (UK)
PARQUET COURTS (US)
POWER TRIP (US)
RIVAL CONSOLES (UK)
ROBYN (SE)
ROSS FROM FRIENDS (UK)
SCARLET PLEASURE (DK)
SOPHIE (UK)
SØREN HUSS (DK)
SPEAKER BITE ME (DK)
SPIRITUALIZED (UK)
STELLA DONNELLY (AU)
TEARS FOR FEARS (UK)
TESTAMENT (US)
THE ARMED (US)
THE CURE (UK)
TIRZAH (UK)
TRAVIS SCOTT (US)
Tickets to Roskilde Festival are on sale on roskilde-festival.dk.
Full festival tickets are DKK 2100 (approx. EUR 282) (including free access to camping).
More artists will be announced soon.
A total of 180 acts will play the festival's eight stages.
See more on www.roskilde-festival.dk