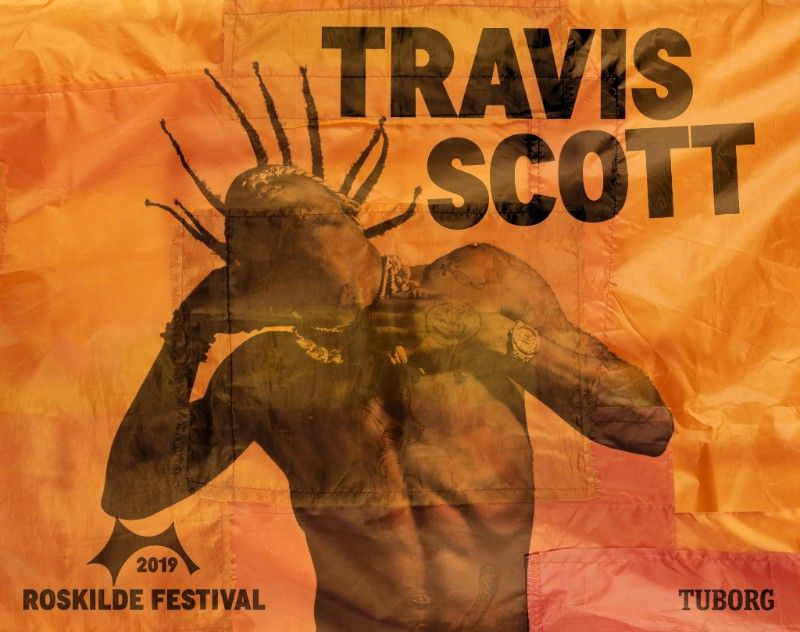 Roskilde Festival announces first acts for 2019
Roskilde Festival announces the first 12 acts for 2019. Travis Scott, indie favourite Julia Holter, Finnish pop star Alma, R&B revelation Tirzah and thrash legends Testament are amongst the first wave of acts confirmed for the Danish non-profit festival. A total of 180 acts will play the 49th edition of Northern Europe's biggest festival. Tickets go on sale on 30 October.
Roskilde Festival 2018 was sunny, sold-out and successful, making it possible to donate millions to social and cultural charities. Gearing up for the 49th edition, the Danish non-profit festival now reveals the first 12 out of a total of 180 acts to play Roskilde Festival 2019.
Travis Scott is one of the biggest hip-hop acts of his generation, and the release of this year's Astroworld – his third album – has firmly cemented that position. Not only did the album top the Billboard charts, it also offers a long list of artists eager to collaborate with the 26-year-old Houston rapper: The Weeknd, Drake, Kanye West, Tame Impala and Thundercat to name just some of them. The 26-year-old Houston rapper has been praised for his playfulness as a recording artist and for his highly energetic live performances.
Head of Programme Anders Wahrén says:
"Travis Scott is one of the best live artists in modern hip-hop, and he's more than ready to take on our iconic Orange Stage, strongly on his way to becoming an icon himself. Bring on summer already!"
Pop of the future and metal legends
Tirzah enjoyed her breakthrough this year with debut album Devotion, offering her own take on alternative R&B pop. Leaning more towards art-pop, Julia Holter is no stranger to Roskilde Festival: Apart from her own shows, she was part of the spectacular opening of the Orange Stage in 2016 as part of the Orchestra of Syrian Musicians alongside Damon Albarn, Noura Mint Seymali and many others. A true star of the future, Alma has found a large audience with hit single Chasing Highs and collaborations with MØ, Charli XCX and Tove Lo.
Guitar-lovers will have plenty to look forward to with spirited indie rockers Parquet Courts, and those looking for something even heavier will be happy to see thrash legends Testament return to Roskilde Festival. Those looking for rarities and extreme metal would do well to visit the rare double show with Full of Hell & The Body.
Fans of electronic music should make a note of highly regarded techno artist Blawan and the more cinematic Rival Consoles.
These 12 acts have been announced for Roskilde Festival 2019:
Travis Scott (US)
Scarlet Pleasure (DK)
Testament (US)
Alma (FI)
Blawan (UK)
Ghetto Kumbé (CO)
Full of Hell & The Body (US) double show
Julia Holter (US)
Nicola Cruz (EC)
Parquet Courts (US)
Rival Consoles (UK)
Tirzah (UK)
Tickets to Roskilde Festival go on sale from 30 October. Full festival tickets are 2100 DKK (including free access to camping and any food and beverage you want to bring).
One-day tickets are 1050 DKK, only a limited number available for each of the last four days.
More artists will be announced soon.
A total of 180 acts will play the festival's eight stages.
Find out more and book tickets at roskilde-festival.dk
Roskilde Festival 2019 lasts for eight days between Saturday 29 June to Saturday 6 July.
About Roskilde Festival:
Roskilde Festival is 100 % non-profit. All profits are donated to social and cultural charities by the Roskilde Festival Charity Society. The festival is right next to the Danish capital of Copenhagen and easily connected by train, bus and flight (Copenhagen Airport).
With more than 180 music acts in the line-up performing on eight stages and over 130,000 passionate music lovers gathered for a full week, Roskilde Festival is among the most unique music festival experiences in the world. A position the festival has held since the early 1970s.
The full festival journey in Roskilde is an eight-day exploration of music, artistic expression, delicious food, sustainability, love, community and party.