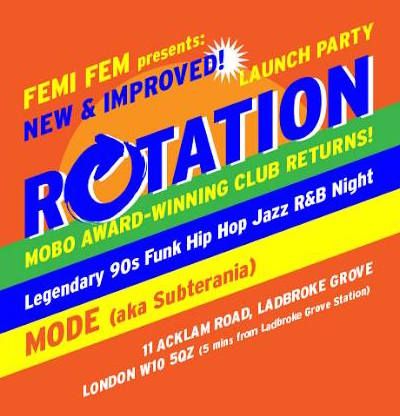 Rotation at Mode Saturday May 21st
'It's like a House Party in a club…bringing sunshine all year round'
the Return Of West London's Premiere Hip Hop Funk Party…ROTATION at Mode (its former home, Subterrania) with Manny Norte (Capital Xtra), DJ Dodge, Alex Turnbull & Femi Fem
On Saturday 21st of May 2016, Femi Fem & Chris Crooks' Mobo award-winning club night Rotation returns with a new edge and a fresh attitude igniting the West London 'house party' vibe for funky newcomers and loyal clubbers alike in its original setting Mode (formerly Subterrania).
Supermodels, B-Boys and B-girls, up and coming and International artists & DJs, Portabello Road & Kensington Market stall holders, A-list celebrities – tout le monde of the capital's funky get down people rubbed shoulders and partied en masse, every week, enjoying an intoxicating fix of hip hop, soul and dancefloor classics. The list of distinguished patrons and guests that added to Rotation's legendary status includes Prince…the Love Symbol himself came down at the recommendation of US film director, Spike Lee, who was also once the last man on the dance floor! A-list DJs that spun at the legendary West London party include Mark Ronson, Maseo from De La Soul and Wyclef Jean one legendary Carnival weekend. The Fugees played as did West Coast Hip Hop legends, The Pharcyde and Sisqo launched his massive 'The Thong Song' single with backflips and trademark peroxide hair-do! (yes do google!) Guru, Mobb Deep and Pharoahe Monch took up the mic on Rotation's stage whilst fans included All Saints, Busta Rhymes, the Jamiroquai crew, Maxwell, The Brand New Heavies, Laurence Fishbourne, Wesley Snipes, Goldie and Bjork who all got down with the West London party people.
Rotation rekindles that legendary West London melting pot 'house party' vibe, and it's impossible to convey both the funky spontaneity of the club and the obsessive allegiance of its regulars without checking it out for yourself.
A testament to its credibility and status in the clubbing firmament, DJs are still 'gagging' to play and having captivated the West London party scene for over a decade, the return of Femi Femi's Rotation is already starting to hum. Back on the decks where he started is Capital XTra DJ Manny Norte, now the go to tour DJ for International stars like Jay Z, Rhianna Beyonce and Naomi Campbell and the resident DJ at the F1 Grand Prix in Bahrain. Flying in from the US for an Exclusive set is DJ Dodge, original DJ alongside Trevor Nelson at the MTV Lick Parties and pioneer of the 'acid jazz' scene with his Dodge City Productions and joining him on the decks is Alex Turnbull (Stussy Tribe/23 Skidoo) and Femi Fem (Mi-Soul/Young Disciples) plus Emcees Lonyo 'Summer Of Love', JPEsq and Major.
Get down party people 🙂