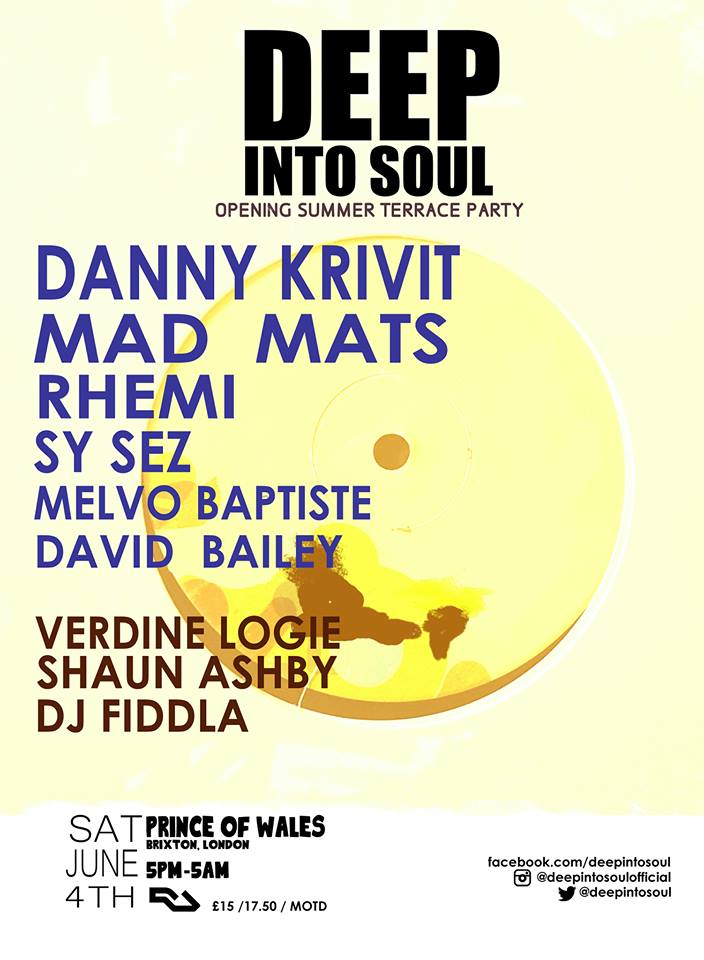 Deep Into Soul Summer Terrace Opening Party
New York's 'Body & Soul' lynchpin and legendary king of the edits, Danny Krivit flies in for an Exclusive debut set at June 4th's Deep Into Soul Summer Terrace Opening party joined by Sweden's connoisseur and house guru Mad Mats, Mi-Soul.com's Sy Sez and Melvo Baptiste and the residents Rhemi Music's Neil Pierce & Ziggy Funk.
From summer Sunday daytime parties to packed Saturday night events at Brixton's Prince Of Wales hotspot, Deep Into Soul return from their roof raising 5th Anniversary event and Baltimore house music special with the Jasper Street Company Live and the Basement Boys DJ Spen & Teddy Douglas with their Summer Terrace Opening party which opens at 5pm with a jerk BBQ & Rum-based Deep Into Soul cocktails on the Terrace and running 12 hours through to 5am at The Prince Of Wales, Brixton
Get ready to dance until dawn, singing along to some the finest house music in the capital has to offer alongside an insanely friendly young dance crowd.
New York legend Danny Krivit, started DJing at age 14, learning from all the greats, including James Brown, David Mancuso and Larry Levan, and his house style is infused with his funk, soul, and disco edits (under the Mr. K name).
His list of residencies and associations read like the dictionary of music he is. Responsible for the immensely popular 718 Sessions and one-third of the Body & Soul collective with Francois Kervorkian and Joe Claussell, Danny Krivit continues to wow dance music fans with his encyclopedeic knowledge and amazing layered and skilled mixing sets.
Sweden's connoisseur & house guru Mad Mats brings his Local Talk label sounds to DiS, mixing up a freestyle, house, hip hop, tech and underground house music. His Raw Fusion club has also led the way in Sweden in house music circles and this is a rare UK set.
Mi-Soul.com's house maestros Sy Sez and Melvo Baptiste join the Rhemi Music residents Neil Pierce and Ziggy Funk as Deep Into Soul open the parasols on The Terrace to enjoy an alfresco jerk BBQ and cocktail session celebrating summer in the city.
Room 2 heads into a deeper afro house sound with the much loved party residents Shaun Ashby and Deejay Fiddla joined by Verdine Lodgie keeping the dancefloor moving with a smorgasbord of house sounds until the sun rises.
Renown for their intimate and hedonistic parties, DiS create a real party atmosphere unveiling new production on the night and surprises to celebrate this milestone in style. Bearing all this in mind, please get your tickets early to avoid disappointment, and Early Birds are only £12.00 and see you on the dance floor!!
Special Guest: Danny Krivit (718 Sessions/Body & Soul/NYC)
Mad Mats (Local Talk)
Rhemi Music, Sy Sez & Melvo Baptiste
5pm-5am – Jerk BBQ & Cocktails from 5pm on The Terrace