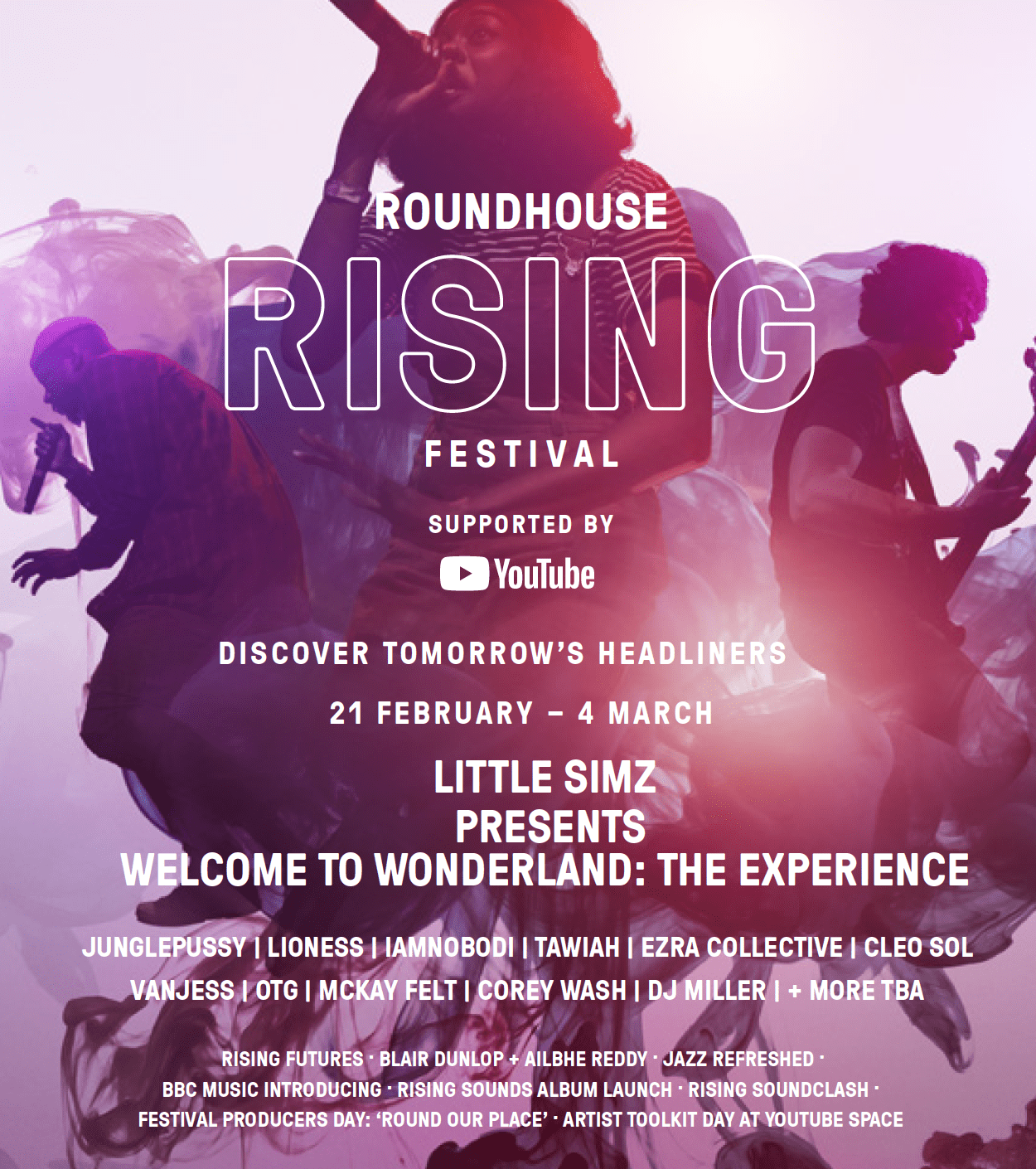 Roundhouse Rising 2018 : Countdown Is On
Rising Festival, Roundhouse's biggest platform for discovering tomorrow's headliners can now reveal its full programme, with extra events reflecting the eclectic nature of the Roundhouse from hard-hitting grime to acoustic, unplugged rhythms. The line-up for the finale from home-grown favourite LITTLE SIMZ: 'WELCOME TO WONDERLAND: THE EXPERIENCE' has arrived, featuring JUNGLEPUSSY, LIONESSand TAWIAH. Other festival highlights include the RISING FESTIVAL PRODUCER'S DAY and ARTIST TOOLKIT DAY, as well as new additions in the form of last year's Roundhouse Resident Artist AWATE, RISING FUTURES, BOSSY LDN, DJ TARGET and so many more, acrosss 10 years, taking place between February 21st – March 4th 2018.
ROUNDHOUSE RISING: WHATS ON?
Starting proceedings on 21st February is RISING FUTURES, a day of creative masterclasses, talks and workshops for those looking to take the next step in music, then on 22nd February, AWATE performs – razor sharp bars and impeccable flow, with Turkish and the Last Skeptik in tow. 24th February sees the return of the ARTIST TOOLKIT DAY, taking place at the YouTube London Space – the home of video innovation.
Next up, it's a headline from BLAIR DUNLOP on Sunday 25th February, a singer / songwriter whose soothing folk medleys have seen him bagging several awards this past year. Support comes from lo-fi rocker DM Farley, Roundhouse Resident Artist, Saachi Sen and Ailbhe Reddy. JAZZ RE:FRESHED head up the 27th, with a golden line-up selected by the tastemaker crew. Triforce will represent with broken jazz / hip-hop / neo-soul fusions, then drummer, Ayo Saluwu, will perform with his cosmic crew the Jazzadelics. Roundhouse Resident Artist, Fred Fredas and the Roundhouse Music Collective also join.
Assemble all grime heads! The 28th February sees seminal UK radio station, BBC Music Introducing,present a night of emerging talent from the urban music world, curated by DJ Target (BBC Radio 1Xtra), with highlights broadcast on 1Xtra. The show is free and tickets are applied for via a lottery. Midland's finest Dapz on the Map (RiskyRoadz) heads up the show, tipped by Professor Green, Shola Ama, BBK & Ghetts. There's more solid gold talent joining in the form of breakout MC Yizzy – the winner of BBC Music Introducing's Future Fund and one of 'NME's 100 Essential Artists' at only 17; as well as South London rapper Alicia Harley, whose debut single was included in Spotify's UK 'New Music Friday' playlist and is championed by the likes of MistaJam and DJ Target.
Next in line on 1st March, Roundhouse's RISING SOUNDS comes to life, a project that unites established artists and producers with next generation names to produce an album that fuses artist styles. This event is the first chance to hear the album in a room full of industry invitees, with several tracks performed live. Gaika (Warp Records), Bayoz Music (Giggs' producer), Margot Broom (Fat White Family) are just a snapshot of those involved.
A favourite on the agenda is the clash of titans, the RISING SOUNDCLASH, acting as one of the final shows on 2nd March. Bossy LDN, DJ duo Girls Can't DJ, Prestige Pak and Resonate Sounds will all fight for the title of RISING SOUNDCLASH CHAMPION 2018. Judging the clash is 1Xtra's Sian Anderson, Roundhouse's Laurie Charlesworth and KISS FM's Swarzy Macaly. This will be hi-energy buzz from beginning to end. Do not miss. On the 3rd March it's the PRODUCERS TAKEOVER 'ROUND OUR PLACE,' an all day festival curated by emerging producers. The Roundhouse studios will be transformed into a mini neighbourhood, with a lounge, an indoor park, a house party rave and a library. Producers have confirmed Jerome Thomas and Boadi and The Banku Powers as two of the artists.
The Grand Finale comes in the form of LITTLE SIMZ: WELCOME TO WONDERLAND: THE EXPERIENCE, a conceptual all-day event put together by the pioneering rapper and performer. On Sunday 4th March, Little Simz unites her favourite new artists, including rising star Cleo Sol, DJ Miller, and Ezra Collective, the five piece collective fusing afrobeats, hip-hop and jazz. Known for his soulful arrangements and grooving basslines, IAMNOBODI also joins, then NYC rapper Junglepussy brings her power bars to the Roundhouse's main stage space. Plus there's way more talent in the form of teenage MC 'Lioness', South London soul songstress Tawiah and the incredible Van Jess. It's a family affair with DJ and Producer OTG, creator McKay Felt and Corey Wash in tow. Past guests include Stormzy, Chipmunk and more – this will be a chance to see the stars of tomorrow first. There will also be discussions, exhibitions, food and more throughout the day.
CREATIVITY TRANSFORMS LIVES
Each year the Roundhouse gives 11-25 year olds the chance to develop their skills and confidence through creativity – in music, media or performing arts. Maya Jane Coles, Tom Misch, Gillbanks and Little Simz – this year's Rising Festival headliner – are just a few young creatives who have participated on projects at the iconic circular venue.
More info : www.roundhouse.org.uk/youngcreatives