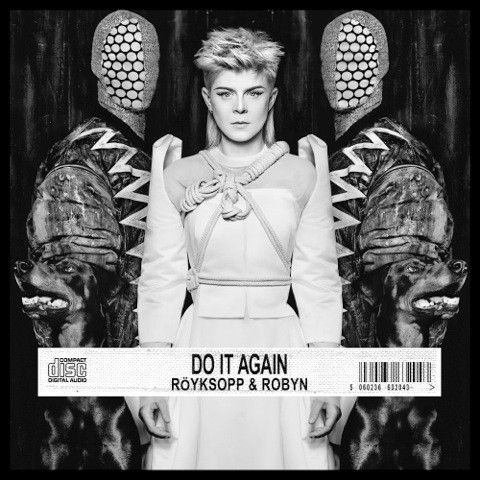 ROYKSOPP AND ROBYN – Do It Again
'Do It Again' is one of the most effervescent, effortlessly uplifting electro-pop tunes of recent years, and started life as a rave-inspired throwback. The inspiration for the "accidental pop song" came after a night out together in Bergen. It was just one of 5 tracks inspired by each other's company, which compelled Röyksopp and Robyn to create something they had never done before. The 'Do It Again' mini album represents the perfect coming together of three very original musical minds.
Röyksopp and Robyn unveiled a clip last week from 'Monument', the first track on the mini album:
https://www.youtube.com/watch?v=Nek-IvGpe0w
The 'Do It Again' tour with Röyksopp and Robyn, already described as one of the most exciting tours of the Summer, begins at Sonar Festival in Spain on 13th June 2014, and includes a headline slot on the BBC Radio 6 music stage at Latitude Festival on 19th July.
Watch the 'Do It Again' tour trailer here: http://doitaga.in/
"This 5 track mini-album is the accumulation and embodiment of the synergy between Robyn and ourselves. We've intended this to be a diverse yet cohesive and thought through musical venture; it's meant to be an expression where pop & art reign side by side." (Röyksopp)
"Svein and Torbjörn and I started working on new music in the beginning of 2013, I´ve been going back and forth to Bergen to record and write with the boys up until recently. Collaborating with S & T is something I enjoy very much. In the beginning we just knew we wanted to do something together and then it started to feel more like a band thing than songs for a Röyksopp or Robyn album so we´re releasing this music together as a band you could say." (Robyn)
'Do It Again' tour dates below:
June 13 Sonar Festival (Spain)
June 14 Northside Festival (Denmark)
June 26 Marymoor Park (Seattle, WA, US)
June 28 Bill Graham Civic Auditorium (San Francisco, CA, US)
June 29 Hollywood Bowl (Los Angeles, CA, US)
July 18 Melt Festival (Germany)
July 19 Latitude Festival (UK)
August 8 Øya Festival (Norway)
August 9 Way Out West Festival (Sweden)
August 15 Pukkelpop (Belgium)
August 20 Pier 97 (New York, NY, US)
August 21 Wolftrap (Washington, DC, US)
August 22 HB Pavilion (Boston, MA, US)
Links:
http://doitaga.in/
http://royksopp.com
https://www.facebook.com/Royksopp
http://robyn.com
https://www.facebook.com/robyn