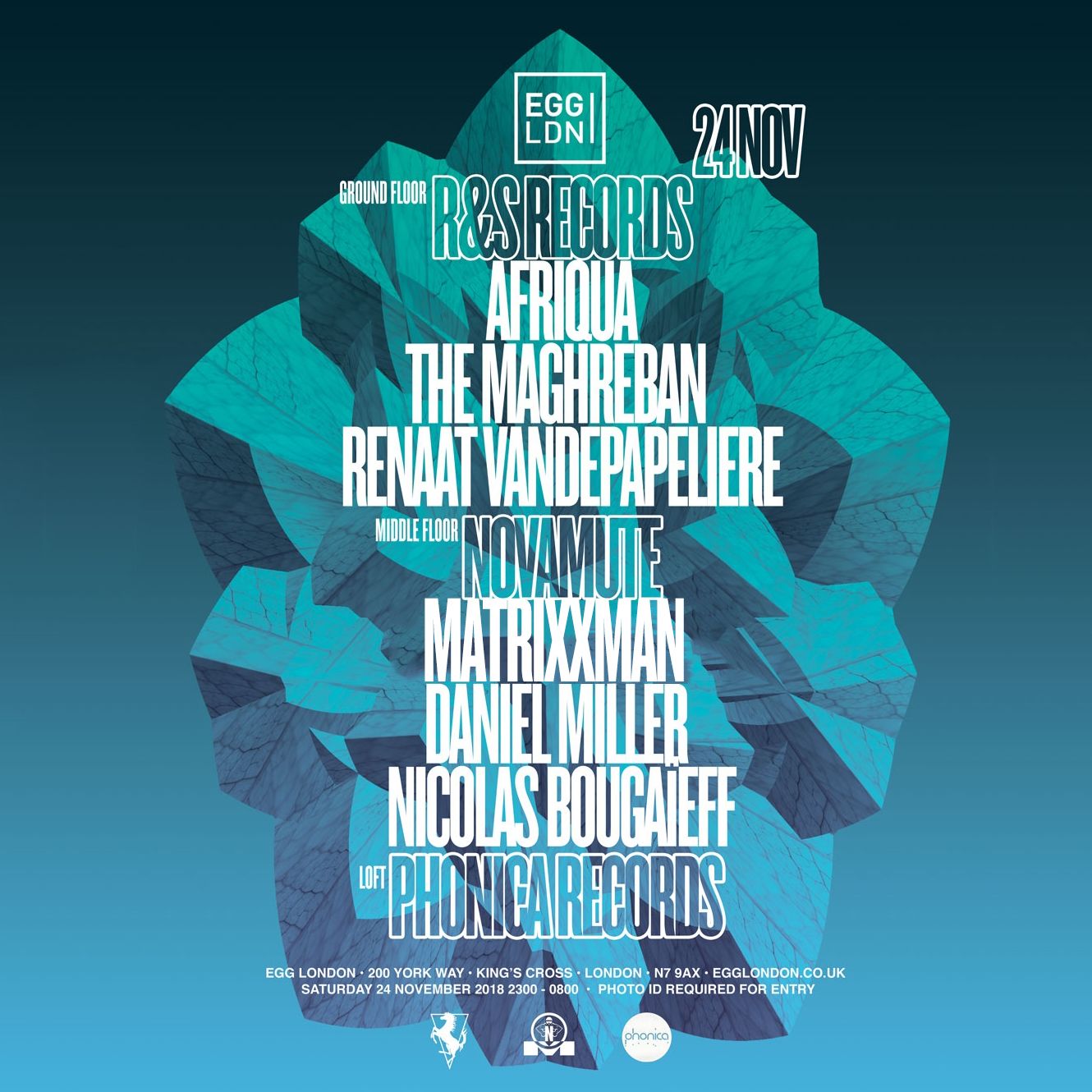 R&S Records Vs Novamute Vs Phonica @ Egg LDN
After their first showcase with us back in July, R&S Records return alongside NovaMute and Phonica on November 24th.
We're delighted to welcome R&S co-founder Renaat Vandepapeliere back again and two producers from the imprint, Afriqua and The Maghreban, each of whom have made a significant mark on the label recently. Having released his breakthrough 'Aleph' on R&S last year, the approach behind Afriqua's music to weave deep samples into spacey sonic tapestries – whilst honouring black heritage at the same time – was something that quickly caught the attention of Vandepapeliere, catapulting Afriqua's sound further the into the European soundscape.
Arguably one of the most respected beat makers today, The Maghreban is the epitome of what R&S Records is all about – storied productions from pioneered outsiders. With his dusky grooves and bass-heavy tracks, The Maghreban will bring a distinct tone to the showcase which will certainly leave an impression on the dance floor and sound system alike.
Described as Mute's 'tough nut son', NovaMute returns with label founder Daniel Miller, Matrixxman and Nicolas Bougaïeff.
Making his Egg LDN debut, we're delighted to welcome Matrixxman who's one of the most fascinating techno producers in today's soundscape. Inspired by the spiralling advances of modern technology and the inner workings of artificial intelligence, the San Franciscan brings his chilling sound of dystopian techno to the club for a thorough workout on the KV2 sound system.
Berlin-based Nicolas Bougaïeff has had a strong presence on NovaMute since he relaunched the label last year with his 'Cognitive Resonance' 12" and brings his sci-fi inspired cuts to our Middle Floor for his second exhilarating set at the club.
Phonica Records complete the bill with a broad range of selectors from the store to head up the Loft including Miles Russell, Alex Egan as well as our resident and Phonica affiliate, Luther Vine..
Listings Info
Event: Egg Presents: NOVAMUTE, R&S RECORDS, PHONICA RECORDS
Date: Saturday November 24th 2018
www.egglondon.co.uk