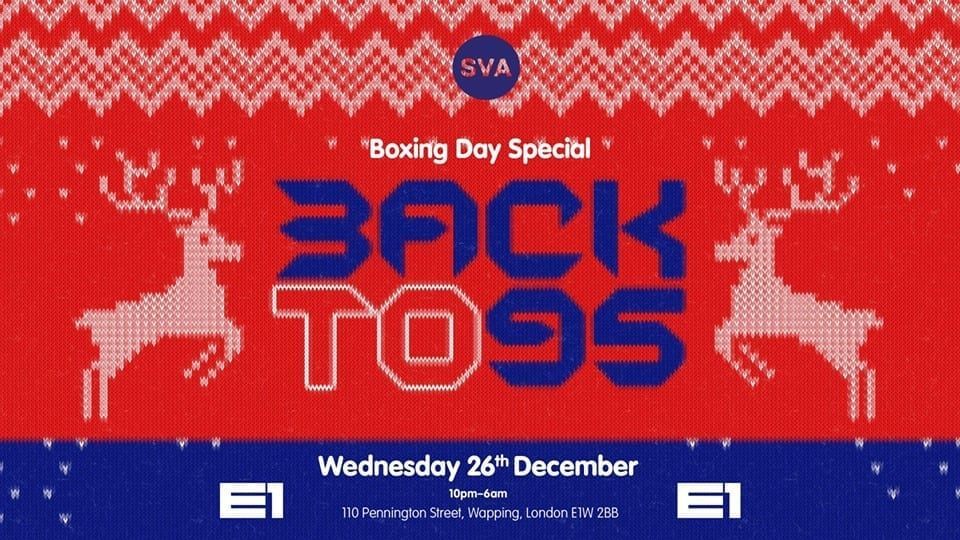 Backto95 Boxing Day Special at E1 – Tickets on sale now
This Christmas we present our 16th annual Backto95 Boxing Day Special for the first time at London's unique studio space "E1 CLUB"
Once again we have spared no expense in bringing you yet another superb line-up of your favourite artists to take you back to the original Oldskool vibe and party atmosphere.
Headlining our main room "The Warehouse" will be the legendary DJ Luck & MC Neat alongside Master Stepz and many more, spinning the best Oldskool House & Garage, with a PA from Cathy Wood performing her anthem "Give Me Joy"!
Room two "The Black Studio" is headlined by the dynamic duo Ratpack playing the best in Old Skool Jungle classics.
Room 3 "The White Studio" is headlined by crowd favourite Rampage who will be playing the best in 80's and 90's Soul, RnB and Bashment. Please purchase your tickets early to avoid disappointment!
WAREHOUSE – OLDSKOOL HOUSE & GARAGE
LUCK & NEAT
MASTER STEPZ
SCOTT GARCIA
RAMSEY & FEN
MIKE RUFF CUT LLOYD
DJ LISTENER
JASON H & JERRY RANKIN
HOST:
CREED – MC DT – PSG – MR BUZZHARD – CKP – ONYX STONE
BLACK STUDIO – OLDSKOOL JUNGLE
RATPACK
NICKY BLACKMARKET
TOP BUZZ
JUMPING JACK FROST
FUNKY FLIRT (B2B) SHOCKING
EZM
HOST:
MOOSE (BIRTHDAY SET) – SHABBA – MAD P – NUFLO
WHITE STUDIO – 90S SOUL, RNB, BASHMENT & FUNKI HOUSE
RAMPAGE
SELLY J & DJ ALTON
SAMMY CONFUNKTION
AZI ROBINSON
2 FOUR 7
DAVE B
HOST:
CHAMPS & CLARKIE
TICKETS:
£12.50 (+ BF) EARLY BIRD AVAILABLE UNTIL MIDNIGHT SUNDAY 18TH NOV 2018
£15.00 (+ BF) 2ND RELEASE AVAILABLE UNTIL MIDNIGHT SUNDAY 2ND DEC 2018
£17.50 (+ BF) 3RD RELEASE AVAILABLE UNTIL MIDNIGHT SUNDAY 16TH DEC 2018
£20.00 (+ BF) 4TH RELEASE
FAST TRACK & VIP ENTRY TICKETS:
£40.00 (+BF) 1ST RELEASE AVAILABLE UNTIL MIDNIGHT SUNDAY 2ND DEC 2018
£50.00 (+BF) 2ND RELEASE AVAILABLE UNTIL MIDNIGHT SUNDAY 16TH DEC 2018
(VIP area side of main stage with own bar)
MEMBERS:
£15 (+ BF) AVAILABLE ONLY FROM WWW.BACKTO95.COM
TICKET OUTLETS:
NORTH
KRICOSS (HARINGEY) 0208 800 7528
EAST
ZEE & CO (BOW) 0208 983 3383
SOUTH
EMPORIUM (PECKHAM) 0207 3589920
DNR RECORDS (CROYDON) 0208 4069905