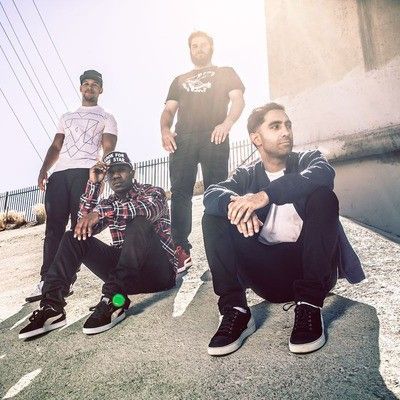 Rudimental, Sigma and Wilkinson bring the hottest summer hits to Sea Dance!
Rudimental, Sigma, and Wilkinson, are the first performers to be announced for the Main Stage at Sea Dance festival at Jaz beach this year. The "Best Medium-sized European Festival" is situated next to the historic town of Budva, at one of the most beautiful beaches on the Adriatic Sea. It will be held as the sea leg of the EXIT Adventure hosted from 15th to 18th July. These are the first three acts to be named that will grace the Sea Dance festival this year and is the result of a new-founded partnership with AEI, an independent media and music company in London, and its global music brands UKF and The-SoundYouNeed. The collaboration of EXIT and AEI enhances the festival experience by growing the line up with new performers, new production levels and adding thrilling experiences all of which are increasing the number of global festival fans attending the ten-day Adventure from Petrovaradin Fortress in Novi Sad to Jaz beach in Budva.
Last year's Exit festival headliners and Brit Award winners, Rudimental, will join us for Sea Dance festival on 16th July, after an exceptionally successful performance at the Petrovaradin Fortress in 2014. They will deliver their new DJ set which they are also touring at Lollapaloza and Bonaroo! Hailing from Hackney, London, this phenomenal production and live quartet took the global festival scene by storm over the last two years. After a UK number 1 album with "Home", they enjoyed multi-platinum status in several countries around the world, with massive radio hits like "Waiting All Night", "Not Giving In", "Free" and "Feel The Love". Rudimental – Waiting All Night (Live at Exit):

Another bestselling attraction coming to Jaz beach on 16th July is the hit duo Sigma (Ʃ) also from the UK. They reached number 1 in the UK singles chart twice last year, thanks to colossal hits "Changing", and "Nobody To Love". The single "Nobody to Love" also brought them two nominations for Brit Awards this year, confirming their contemporary sound. The list of Sigma's collaborators includes huge global performers including Kanye West, Paloma Faith, Eric Prydz, Ellie Goulding, Kiezsa and many others. "Higher", their newest single with guest appearance by English singer Labrinth, is climbing the charts and serves as a harbinger for Sigma's new album "Life". Sigma – Nobody To Love:

With a plethora of hits in the last few years including the full-blown anthem "Afterglow", its creator Wilkinson, is scheduled to perform on the main stage on Saturday, 18th July! The DJ and producer from London dominated the British dance charts with releases from his album "Lazers Not Included". He remixed tracks by Gorgon City, Chase & Status, and Example, and the indispensable club version of "Sing" by Ed Sheeran. Wilkinson – Afterglow:

Tickets for Sea Dance festival are available at £49(€59) +b/f. Tickets for the full EXIT Adventure, combining both Exit and Sea Dance festival are available at £105 (€130) +b/f at www.exitfest.org . Plenty of additional options for packages that include travel and accommodation options with more info can be found at www.exitfest.org/en/tickets and www.exittrip.org.
Watch the Sea Dance Festival video here…

About Sea Dance Festival
Sea Dance is a must-visit for all die-hard fans of electronic music mixed with the sounds of the sea, the sun's warm kiss, and soft sand beneath their feet. It is an epic adventure at heaven on earth, including day parties at the hottest beach of the Adriatic Sea, beautiful sunsets with some of the best electro beats and beach cocktail parties.
After its premiere edition, the Adriatic festival came out top winning the "Best Medium-Sized Festival" category at the European Festival Awards. Based on over 1,2 million votes from all over the world, the festival was shortlisted in two categories at the European Festival Awards: "Best New European Festival" and "Best Medium-Sized European Festival" and owes its success to all of the fans who voted.
Partnered with London-based music and media company AEI and its global music brands UKF and TheSoundYouNeed, the team behind Exit Festival's success will be working with AEI across the planning, artist line-up, ticketing and marketing of Sea Dance Festival, which is a part of the 10-day EXIT Adventure package. Both sides of this newly founded partnership see it as a natural progression of their earlier collaboration and a way to further develop Sea Dance as one of the leading events in Europe.
The second edition of Sea Dance Festival will be held from 16th to 18th July at the mesmerising Jaz beach, Montenegro, as part of the 15 year anniversary celebrations of the award winning EXIT Festiva
More info here: www.seadancefestival.me/en