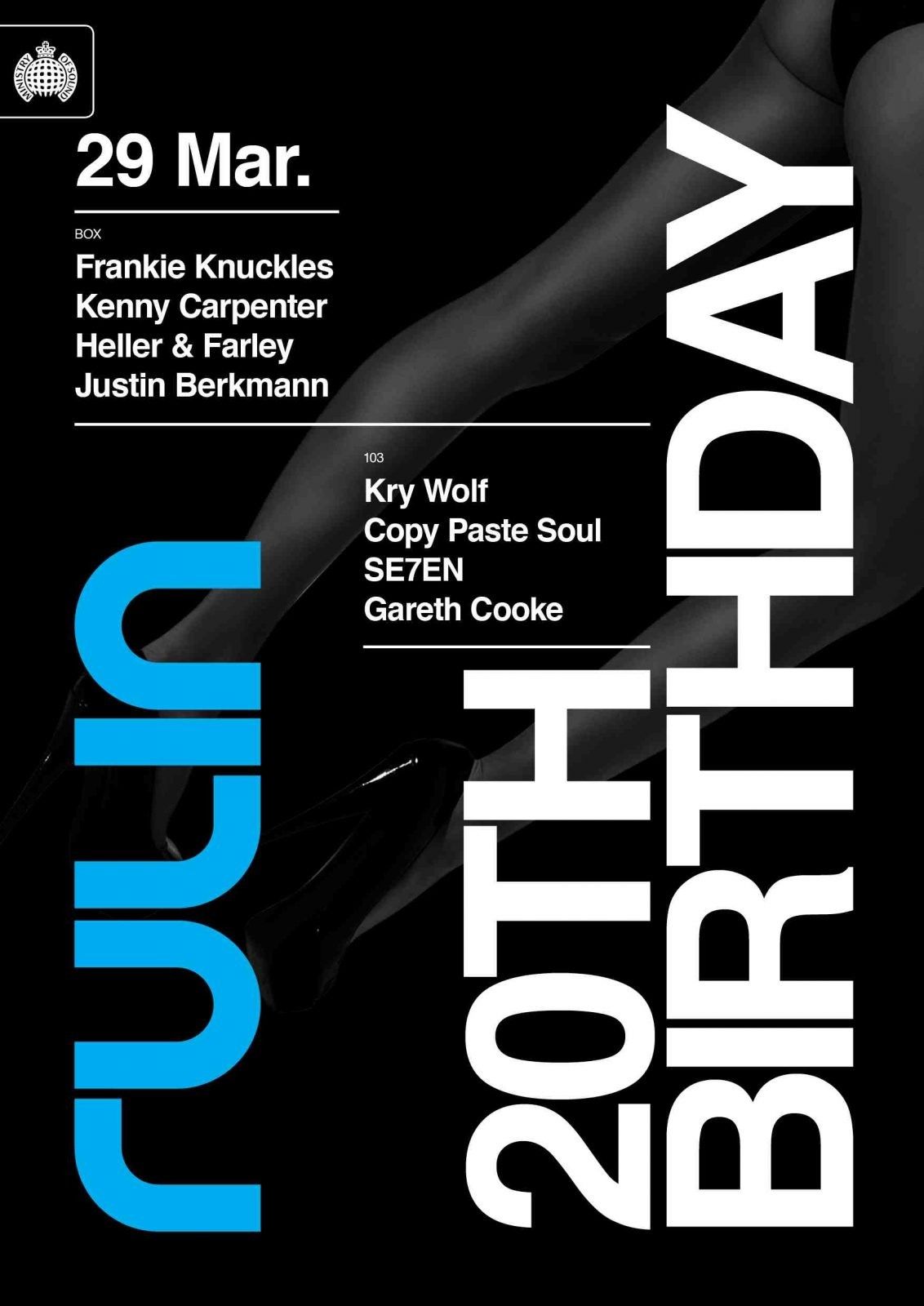 RULIN CELEBRATES 20TH BIRTHDAY WITH FRANKIE KNUCKLES & MORE
Rulin returns to celebrate its 20th birthday on Saturday 29th March at Ministry of Sound with a special appearance by the Godfather of House, Frankie Knuckles.
The UK's pioneering house night, Rulin was responsible for bringing over many of the US house and garage masters and helped transform dance music culture in the process, leaving an indelible mark on Britain's clubbing landscape. Joining Frankie Knuckles in the Box for this landmark event are DJs who've each played a key part in Rulin's success, including Kenny Carpenter, Heller & Farley and Ministry of Sound co-founder and original resident, Justin Berkmann.
Frankie Knuckles, the Chicago Warehouse and Music Box DJ and original house music producer is responsible for classics including 'Your Love', 'Baby Wants To Ride', 'The Whistle Song' and 'Tears' plus a host of classic hit remixes such as Electribe 101's 'Talking With Myself', Alison Limerick 'Where Love Lives' and Chaka Khan 'Ain't Nobody'. For over 30 years, the Grammy winning remixer has maintained the original ethos of the house music genre and educated successive generations.
103 will be putting a contemporary spin on proceedings with Kry Wolf, Copy Paste Soul, SE7EN and Gareth Cooke in attendance.
Ministry of Sound is currently flying high after an extensive refurbishment and winning its right to party at the end of 2013. The venue now features a new look Courtyard, a stunning new VIP suite with a viewing gallery and two new balconies overlooking both 103 and its iconic main room, The Box. Already state-of-the-art technology was updated across the venue.
Home to the biggest DJs and the world's finest sound system; Ministry of Sound is London's definitive dancefloor.
Further event line-ups and announcements to follow including Sunnery James & Ryan Marciano, Defected In The House with Andrea Oliva, Laidback Luke; Audio Rehab; Tommy Trash and John Dahlback; Catz 'N Dogz and Pirupa; Danny Avila, Benny Benassi, Thomas Gold, M.A.N.D.Y., Laidback Luke and so much more.
Ministry of Sound
103 Gaunt Street, London, SE1 6DP
By Tube
Elephant & Castle Station, Northern and Bakerloo lines.
London Transport information: www.journeyplanner.org
By Train
Elephant & Castle, Thameslink Line
National rail enquiries:
www.nationalrail.co.uk
Saturday 29th March
23:00-07:00
Saturday Sessions:
Box: Rulin
Frankie Knuckles
Kenny Carpenter
Heller & Farley
Justin Berkmann
103:
Kry Wolf
Copy Paste Soul
SE7EN
Gareth Cooke
Loft:
Table Manners
Baby Box:
Engima
_ _ _ _ _ _ _ _ _ _ _ _ _ _ _ _ _ _ _ _
From £20 Advance // Members and Students £5 off door price
Tickets available from:
www.ministryofsound.com/club/listings
_ _ _ _ _ _ _ _ _ _ _ _ _ _ _ _ _ _ _ _
Ministry of Sound
103 Gaunt Street
London
SE1 6DP
0870 060 0010