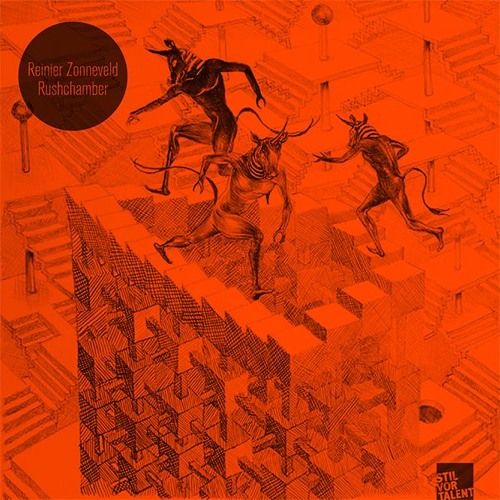 Reinier Zonneveld - RUSHCHAMBER EP
The energy and versatility we are used to when Reinier Zonneveld takes the decks is immediately evident in his latest EP 'Rushchamber'.
The opening track proceedings with 'Sharp Bust', a straight and to the point trancy bassline leads the way and is decked by mechanic stabs and hi-hats. The groove her is simply hypnotic and ultimately relentless. 'Rushchamber' on the other hand, bears a subversive groove with a minimal and dark bassline. Glitchy cut up vocals give an eerie feel as the whole atmosphere becomes more and more immersed by the way of multi-layered drums. The final offering 'Flatchat' is anything but flat. Its intricate groove shares the dark and immerse territory of the previous track, while another set of cut up vocals draw instant attention. A descending lead padded with reverb and stabbing synths sees the last track round up this release and end on a grave and intense note.
Reinier Zonneveld, known as a live-act as well as a DJ and producer from the Netherlands, is ready to take over the world with his unique view on the genre Techno. Zonneveld is just as comfortable with producing electronic music as with composing classical and his orchestral skills shine through in his productions. With this versatile and talented aspect of producing music he has received massive global support from artists such as: Carl Cox, Richie Hawtin, Adam Beyer, Sven Väth, Chris Liebing, Dubfire, John Digweed, Pan-Pot, Paco Osuna, Pig & Dan, Mark Knight, Secret Cinema, Marco Carola, Funkagenda, Steve Lawler, Axwell, Armin van Buuren and more.
'Rushchamber' EP will be released on Oliver Koletzki's Stil Vor Talent label on the 29th of January.
TRACKLIST:
1) Sharp Bust
2) Rushchamber
3) Flatchat