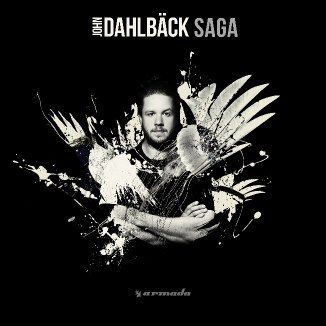 John Dahlbäck - Saga
Today, Swedish DJ and electronic dance music producer John Dahlbäck releases his third, full-length artist album 'Saga' on Armada Music. Dahlbäck's first album release since 'Kill The Silence' under his Demure alias in 2012, 'Saga', is timeless and monumental, placing the skilled producer in the forefront of the dance music of today.

To celebrate the release, Dahlbäck is performing in select U.S. cities, including a release show at Ruby Skye in San Francisco and a performance the following night, January 30th, at Create Nightclub in Hollywood.

John: "I'm so happy and proud to finally be able to say the album is here. It has taken me a year to finish but what a ride it's been. This album is so diverse and musical and that is really important these days. So here is my experiment. It can succeed and it can fail but it doesn't matter. With this album, I did my best, and what's more important: I did it all with my love for music".

Dahlbäck enticed his fans last year with the release of first album single 'Raven', a dark, clubby track that got listeners ready for a long night of celebration. Second single 'Atlantis' held a deep allure colored by the song's warm, creamy vocals. 'Count To Ten' unabashedly buoyant and upbeat, soon followed, and Dahlbäck continued to release banger after banger ahead of the album release.

His fourth single, 'Ain't You', features enthralling chord progressions, whereas 'New York City' conjures up the city skyline and the sixth and final single 'Gargamel', promised fans an expansive album, complete with pulsating synths.
Full Tracklist:
Saga Intro
Into You
Sycophant
Raven
Count To Ten (feat. Alexx Mack)
Ain't You
Atlantis
Terminus
Walking With Shadows (feat. BullySongs)
Where You Are (feat. Lovestarrs)
New York City (feat. Luke McMaster)
Shivers
Untouched Hearts
Gargamel
Aileen (feat. Craig Smart)

About John Dahlbäck
As a producer and DJ, John Dahlbäck has an inherent sense of what works on a dancefloor. His music consistently earns support from the top names in the industry, including Avicii, Pete Tong, Tiësto, and Swedish House Mafia. Over the years, Dahlbäck has had his music released on top record labels, including Ultra, Toolroom, Defected, Spinnin', Subliminal, Big Beat/Atlantic, Ministry of Sound, Kompakt, Dessous, and others.

Additionally, Dahlbäck has lent his sought-after production skills to remixes for the likes of Lady Gaga, 50 Cent, David Morales and more. Having grown up in a family reverberating with music, one of Dahlbäck's earliest forays into electronic music was while tinkering with his father's Atari computer as a young boy. It was perhaps unsurprising that Dahlbäck would sign his first record deal at the age of 17, a time when most of his peers were just discovering the club scene. Today, Dahlbäck DJs at leading nightclubs and festivals around the world, including Ushuaïa Ibiza Beach Hotel on the Balearic island of Ibiza.