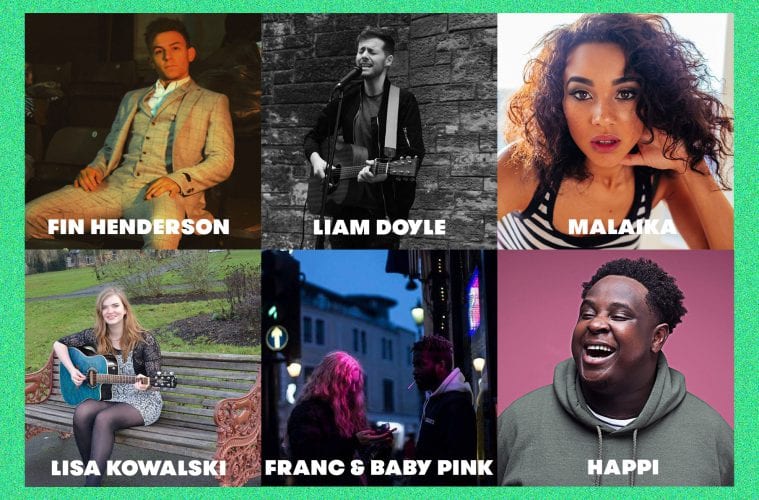 Salute Music Makers Announce the Six Finalists Battling it Out for the £50,000 Cash Prize
On Friday evening 29th October, public voting closed on Salute's quest to unearth the very best in British musical talent. The public have spoken and the top six artists who have made it to the final out of over 2000 initial entrants, each of them winning £10,000 in the process are:
Fin Henderson – A Million Places
Malaika – Stop For a Minute
Liam Doyle – I Won't Let Go
Lisa Kowalski – I Do
Franc & Baby Pink – Erykah & Red Wine
Happi – Forever
Heralding the final stage of the competition to find the best of unsigned UK musical talent, the final six will compete against each other to find the ultimate winner of Salute Music Maker's ground-breaking competition, taking away the top prize of a no-strings attached, £50,000.
Salute Music Makers have developed a whole new way for Music Lovers to vote and become curators in their own right. The final voting stage will be split into two rounds via the innovation interactive voting system, which utilises Facebook Messenger and a specially-designed Facebook Messenger bot.
The public will still be able to access the Top 100 tracks as well as their curated playlist of up to 6 tracks they had voted for.
Click here to get involved and become a judge:
http://m.me/salutemusicuk
Happi
"It means so much to me to be here, to be supported and recognised by my peers but also to be able to represent a path of positivity and light in music. I'm thrilled to have gotten this far but I believe we can go all the way. "

Liam Doyle
"'I am overwhelmed to be amongst 5 other incredibly talented finalists in a competition with such a wide range of entries.'"

Franc & Baby Pink
"Getting into the top 6 in the Salute Music Competition has been an incredible experience. Being able to achieve this and have an opportunity to kick-start our career and have a pathway into the UK music scene is so important to us."

Malaika
"I am so honoured to be part of such a unique opportunity. I feel that I have learned so much about self-promotion through this competition."

Lisa Kowalski
"Being recognised on a national level in such a ground-breaking competition was a wonderful surprise. It means a lot that success was the result of selection by music industry professionals as well as incredible support from the public."

Fin Henderson
"Absolutely honoured to have been selected for the final 6. Can't express how much the selection from salute and the following support from the public means to me. Now just feeling hopeful for the week ahead!"