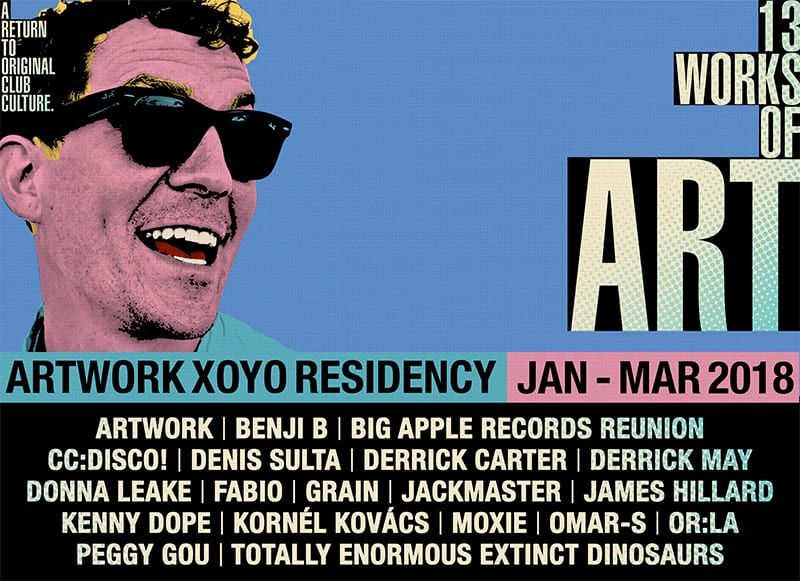 Artwork is the next XOYO resident…
At the start of 2014, XOYO launched their now lauded residency series which sees one act hold down three months of consecutive Fridays, with a selection of hand picked guests each week. Looking forward, we can now reveal the first resident of 2018…
It gives us a massive amount of pleasure to announce, Artwork will be XOYO's next resident, presenting '13 Works Of Art' each Friday in January, February and March.
Having guested on seven previous XOYO residencies—he's a DJ's DJ through and through—the time has come for Artwork to take his well-earned place at the forefront of his very own – we could not be more excited.
A true veteran in the game, Artwork has been shaping the scene for almost three decades. The scope of his influence has gone under the radar for the majority of his career with most of his productions, whether techno, garage or dubstep, gaining huge popularity without most people knowing the artist behind the art. It took his formation of dubstep supergroup, Magnetic Man alongside Skream and Benga to garner Artwork the recognition he deserves.
His relationship with XOYO stretches back to the club's early days when he took up residence in room 2. Since then he's thrown a solid series of Art's House parties each summer and even gave his expert guidance on our recent room 2 refurbishment – let's just say, this residency has been a long time coming.
Artwork's invited some very special DJs to join him in bringing the party each week. From old friends to bonafide legends, he offers up one of the most consistent residencies so far…
Highlights of his thirteen weeks include a Carnival Special with Benji B and Fabio, bringing that bass-ridden London spirit to the basement of XOYO on Friday 12th January.
As Artwork guested on Jackmaster's '13 Weeks To Jack' XOYO residency back in 2014, it's only right that he return the gesture (plus they're absolutely blinding when they play on the same bill). Kornél Kovács rounds off this one on February 16th.
Seminal South London record store Big Apple will be having a full blown reunion on Friday 2nd March. Expect all the originals under one roof. Hold tight for the lineup – trust us, it's going to be massive.
Other names not to be missed include: Derrick May, Omar-S, Denis Sulta, Kenny Dope, Totally Enormous Extinct Dinosaurs, CC:Disco!, Grain (Artwork's techno alias), Derrick Carter, James Hillard of Horse Meat Disco.
As is tradition, Artwork will open and close his residency by playing all night long – couldn't think of anything better.
"I never thought i'd actually get to do this… Actually, it was the plan all along." – Artwork
Tickets on sale now via 13worksof.art. Full lineups and dates below…
Friday 5th January
ARTWORK
ALL NIGHT LONG
Friday 12 January
CARNIVAL SPECIAL
BENJI B | FABIO | ARTWORK
Friday 19th January
PEGGY GOU | OR:LA | ARTWORK
Friday 26th January
DENIS SULTA B2B ARTWORK
ALL NIGHT LONG
Friday 2nd February
DERRICK CARTER | JAMES HILLARD | ARTWORK
Friday 9th February
KENNY DOPE | MOXIE | ARTWORK
Friday 16th February
JACKMASTER | KORNÉL KOVÁCS | ARTWORK
Friday 23rd February
TOTALLY ENORMOUS EXTINCT DINOSAURS | DONNA LEAK | ARTWORK
Friday 2nd March
BIG APPLE RECORDS REUNION
SPECIAL GUESTS | ARTWORK
Friday 16th March
VERY SPECIAL GUEST DISCO SET | CC:DISCO! | ARTWORK
Friday 9th March
DERRICK MAY | GRAIN
Friday 23rd March
OMAR-S | ARTWORK
Friday 30th March
ARTWORK
ALL NIGHT LONG