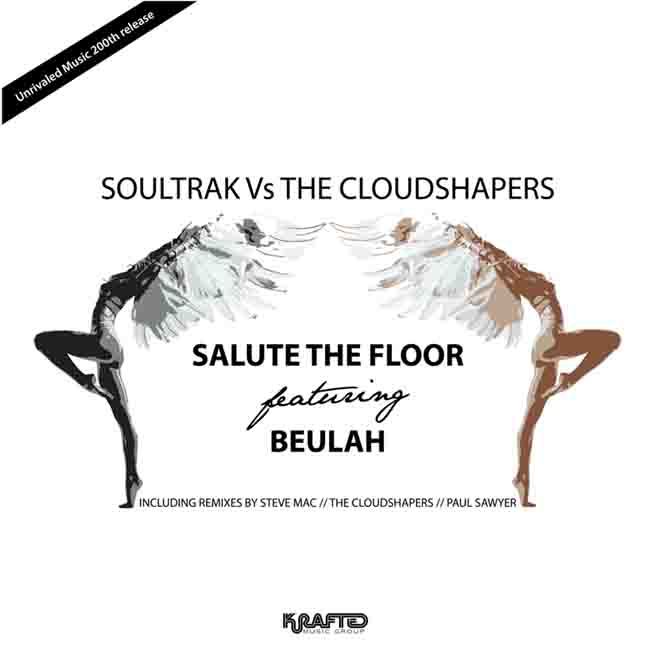 Soultrak vs The Cloushapers - Salute The Floor
Soultrak & The Cloudshapers deliver their new vocal deep house anthem to mark Unrivaled Music's 200th release!
PREVIEW: https://soundcloud.com/unrivaledmusic/sets/ur200-soultrak-vs-the
'Salute The Floor' beautifully rolls along with a melodic bass line and mellifluous yet captivating vocal from Bealuh, building with its uplifting piano and atmospheric strings into a storming deep house anthem.
The Original Mix is supported with a heavyweight remix package:
First up – Steve Mac sets the tone with a heads down house vibe – Hypnotic house beats & bass with chopped up vocals make his interpretations primetime set staples. Already Mark Knight's 'KILLER CUT' on his weekly radio show and supported by the cream of Ibiza so far his summer. Steve's remix is a MUST have house track.
The Cloudshapers (aka Base Music label boss Simon Sinfield) adds an MK organ keeping the vibe rolling & Unrivaled's very own Paul Sawyer offers a deeper techy interpretation, moving away from the piano and organ sounds within the original and introduces a warbling 303 into the mix.
Unrivaled Music's 200th release is pure class.
Timeless deep house with killer remixes.
OUT NOW
Beatport – https://pro.beatport.com/release/salute-the-floor-featuring-beulah/1567463
Itunes – https://itunes.apple.com/gb/album/salute-the-floor-feat.-beulah/id1018177804
Traxsource – http://www.traxsource.com/title/496600/salute-the-floor-featuring-beulah
Trackitdown – https://www.trackitdown.net/track/soultrak-vs-the-cloudshapers/salute-the-floor-featuring-beulah/house/8626129.html
LIVE SUMMER 2015 DATES
20/6 – Sonar, Barcelona
27/6 – Time Tunnel garden party, Southampton
17/7 – Wonder Fields Festival 2015, Exeter
18/7 – Twisted Garden Party, Southampton
31/7 – SOULTRAK @ Lakota, Bristol
14/8 – Glass Butter Beach Festival, Wales
15/8 – Airpusher, San Francisco, USA
FOLLOW:
Twitter
@Soultrak
@PaulEJSawyer
@KraftedMusic
@The Cloudshapers
Facebook:
Krafted Music https://www.facebook.com/EJUnderground
Unrivaled https://www.facebook.com/unrivaledmusic
Soundcloud
Paul Sawyer https://soundcloud.com/paul-soultrak-sawyer
Soultrak https://soundcloud.com/soultrak
Unrivaled https://soundcloud.com/unrivaledmusic
The Cloudshapers https://soundcloud.com/thecloudshapers
YouTube
Krafted Music https://www.youtube.com/channel/UCyobc4m-M0Wf75VfiQJjSXQ