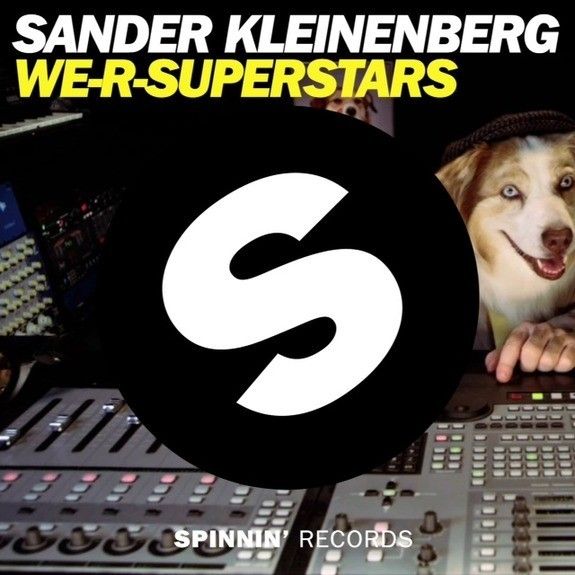 Sander Kleinenberg – We-R-Superstars
Over the past 15 years, Sander Kleinenberg has proven himself as a DJ renowned for delivering immaculate electro house fueled sets. A man of radiating talent, he has recently showcased his abilities across South America and Europe as well as landing a spot on the bill of famed US Festival, Coachella. In the midst of his worldwide tour, the Dutchman now ensures his time in the studio has paid off as he announces his highly anticipated disco infused track "We-R-Superstars".

Since it was premiered as an ID track on Billboard last month, hype surrounding the track has reached fever pitch, with several blogs and websites hastening to identify it as the instrumental to the upcoming collaboration between Madonna and Daft Punk. With these rumours spreading like wildfire just hours after its premiere and after being teased twice on Pete Tong's BBC Radio 1 show, it can now be revealed that the true mastermind behind the sensational single is none other than legendary Dutch house music giant Sander Kleinenberg!
In a different vein to his usual electro spitting house tracks, this groovy dance anthem embodies a high-energy smooth disco melody that strikes a perfect balance once met with the punchy bass line. An array of cheerful analog chords, filtered funk synths and robotic vocal elements give 'We-R-Superstars' an endless energy throughout. Already racking up over 200,000 views on YouTube over the weekend, 'We-R-Superstars' is undeniable proof that Sander Kleinenberg truly is the king of house.
With more music slated for release over the coming months, fans of the Little Mountain Recordings honcho will be pleased to hear he is all set to air a brand new podcast as well as making an imminent guest appearance on Spinnin' sessions. Make sure to catch one of his electrifying sets at the upcoming Lollapalooza on August 1st, or one of the stops along his worldwide tour and stay tuned for the official release on July 11th!
Tour dates:
June 28 – Ten Nightclub, Calgary, AB
July 12 – The Castle, Chicago, IL
July 18 – Harlot – San Francisco, CA
July 21 – Sound Nightclub – Los Angeles, CA
July 26 – Ultrasonic Festival – Utrecht, NL
August 1 – Lollapalooza – Chicago, IL
August 2 – Sky City Festival – Amsterdam, NL